Oh, sweet irony! Occasionally, a situation presents itself that emboldens a politician to call for justice, when in reality said politician only asks for justice when it fits their political agenda.
Thanks for stepping in it, San Juan, Puerto Rico Mayor Carmen Yulin Cruz!
The Federal Bureau of Investigation (FBI) conducted a raid of the Municipal Tower in San Juan on Tuesday morning. The raid was reported to have pertained to "favoritism in the purchasing department of the city council," according to Puerto Rican columnist Benjamin Torres Gotay.
Here's Gotay's tweet: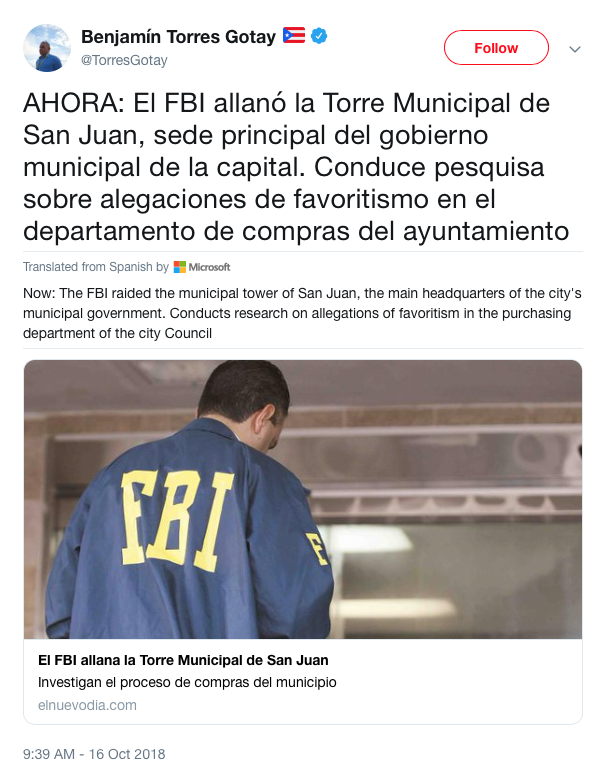 Here's video of the FBI entering the Municipal Tower in San Juan:
The kicker of the possible corruption in the San Juan government was a tweet by everybody's favorite mayor, San Juan's Carmen Yulin Cruz.
You might remember Cruz from her combativeness toward President Trump in the aftermath of Hurricane Maria last year. Many have said that Cruz fights with Trump, because she's merely trying to advance her political career.
Without further ado, here's Cruz's tweet: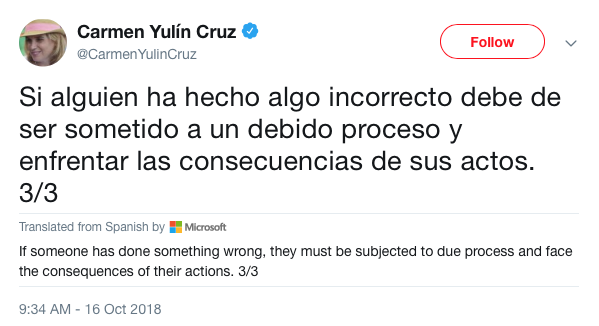 Hmm, "due process," huh? I don't remember Cruz calling for due process when now-Supreme Court Justice Brett Kavanaugh was being lambasted by the media and the Left amid allegations of sexual abuse by multiple women, most notably Dr. Christine Blasey Ford.
As a matter of fact, Cruz not only didn't call for "due process," but she openly tweeted of her disdain for anyone that voted to confirm Kavanaugh.
Case in point:

Checkmate, Mayor Cruz. That doesn't look like someone who looks for justice by the way of "due process" in every case, does it?
I guess due process only comes into play when it's convenient for the Left. It just goes to show that the Left's true mantra, 'Do as I say, not as I do,' rings true in the case of Cruz.
H/T: Twitchy