A San Francisco area restaurant has officially banned "MAGA" hats from its premises, saying the iconic red Trump gear is comparable to white KKK hoods and swastikas.
FOX5NY reports that award-winning J. Kenji Lopez-Alt, who owns the Wursthall restaurant in San Meteo first announced his ban on Twitter, posting that while no one has yet come into his establishment wearing a MAGA hat, anyone who does will be denied service and asked to leave. In his tweets, Lopez-Alt added he sees the red hats as "symbols of intolerance and hate."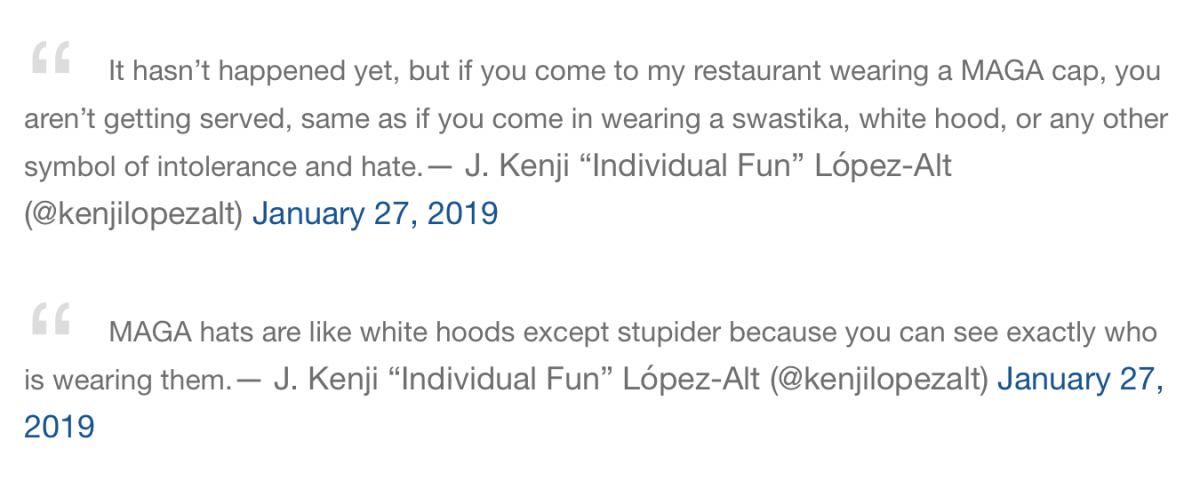 Apparently, even people who aren't fans of Trump or his campaign's symbolic red hats say Lopez-Alt has gone a little too far by saying he'll kick out anyone who comes into his building wearing them.
"Diners interviewed by the newspapers said they understood Lopez-Alt's stance but questioned the hat ban and said he could have found a way to start a dialogue on the issue. On Twitter, many criticized the so-called tolerance of the liberal Bay Area," FOX5 reports.
MRCTV Reader,
The liberal media are terrified of the truth, especially when it leads to uncomfortable questions about their own leftist worldview.
MRCTV is the multimedia division of MRC featuring original content and aggregated videos of the news, people, and events conservatives care about.
MRCTV relies on the support of our loyal readers (and video viewers) to keep providing the news and commentary that matter to the American people, not just stories that prop up the liberal agenda.
Make a donation today. Just $15 a month would make a tremendous impact and enable us to keeping shining the light where the liberal media are afraid to tread.
— The MRCTV Team
DONATE
Connect
Sign up for our MRCTV newsletter to receive the latest news.
Sponsored Links