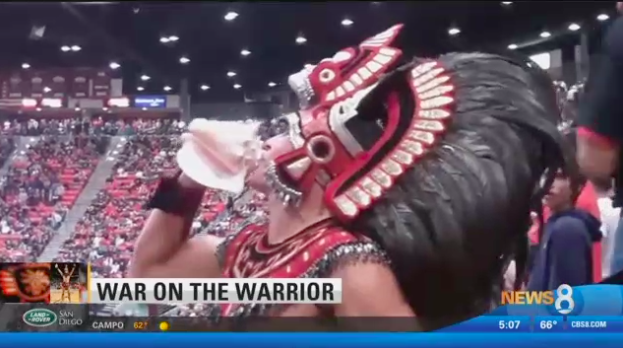 Image via Screenshot
San Diego State University's student senate has voted to retire the school's controversial Aztec mascot after years of protest from students and activist groups that have labelled it racist and insensitive to Native American history.
Supporters of the Aztec mascot have said it represents tradition, sport, and school spirit, but opponents have been relentless in their efforts to remove the mascot altogether.
"The NCAA, the American Psychological Association and numerous bodies throughout the country have pointed to all the racist history of these types of mascots as well as the impact it has on current native students," Roberto Hernandez, SDSU associate professor and member of the Diversity, Equity and Outreach Committee, told CBS8.
"This is actually, historically, territory of the Kumeyaay Nation," he said. "That is not to say we should be the San Diego State Kumeyaays – we'd be repeating the problem."
Carlos Gutierrez, who served as SDSU's "human warrior" for more than a decade, disagrees, saying that critics do not understand what the Aztec warrior represents.
"They are calling this racist. This is not racist. It's humanistic," he said. "We have a human representative as a warrior representing SDSU. Representing sport. Representing one of the top universities in academia."
He told CBS8 that he thinks SDSU should make an effort to educate its students about the Aztec mascot to dispel the negative connotations.
The resolution passed by the student senate is non-binding. It is ultimately up to the university president to decide on the mascot's fate.
A spokesperson for SDSU's interim president Sally Roush told CBS8 that the resolution "proves an opportunity for dialogue to continue."
Roush's spokesperson did not say whether she will accept the resolution to retire the Aztec mascot.
It is unclear what SDSU would have as a replacement if the university does decide to retire the Aztec warrior.
The Native American mascot debate continues not only on college campuses but also in professional sports. Native American activist groups have fought for years on end to change the names and mascots of NFL teams such as the Washington Redskins but to no avail. 
Thank you for supporting MRCTV! As a tax-deductible, charitable organization, we rely on the support of our readers to keep us running! Keep MRCTV going with your gift here!