Last week, 77 year old Karl Manke shut down his barber shop in Owosso, Michigan after he was served with papers from the state. This week, Shelley Luther, the salon owner who was arrested and put in jail for opening her business in Texas, is flying north to stand by his side.
WNEM reports that Manke is fighting government action that was taken after he defied Governor Gretchen Whitmer's Stay Home, Stay Safe executive order.
Manke defied the governor's orders and reopened his business earlier this month. Since then he's received plenty of customers and warnings from the state.

'I feel she's breaking the law I feel she's entered into a police state type of situation now," he said. "Getting me and taking my license without due process, just pulling my license is a police state tactic.'
The Department of Licensing and Regulatory Affairs Bureau of Professional Licensing issued a license suspension against Karl Manke's Barber Shop. Manke is taking legal action in the matter.
Shelly Luther, who gained attention earlier this month after being sentenced to jail and then released for opening her Texas hair salon, is flying North to join Manke for a press conference on Monday.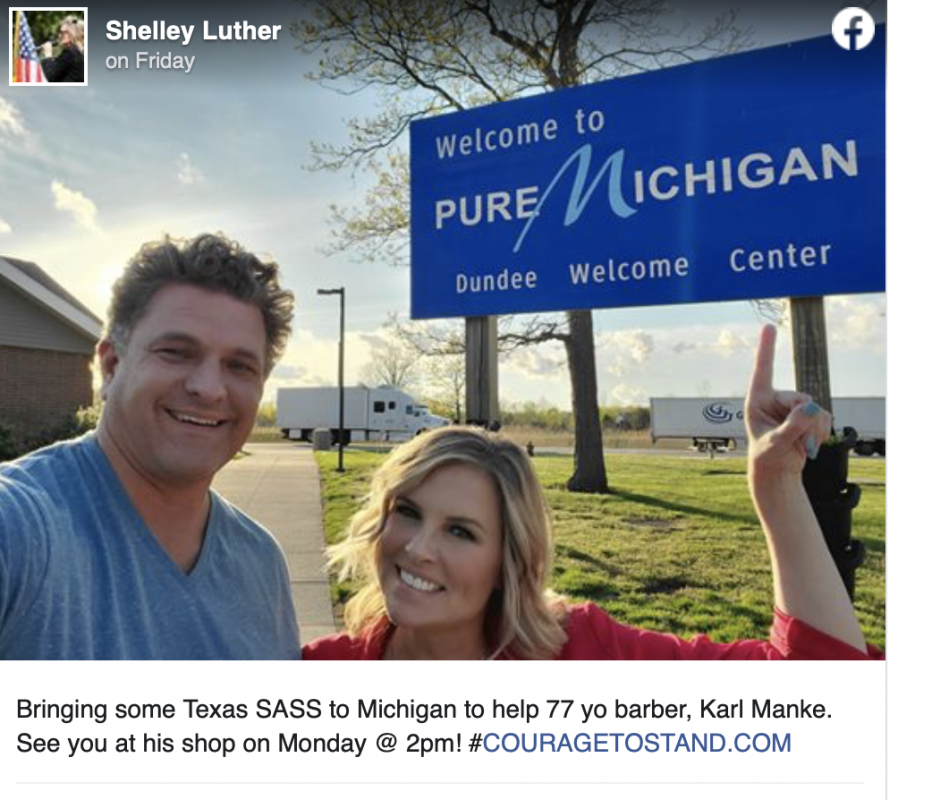 Fox66 reports that Luther says she'll assist Manke in any way possible.
 "Karl, like many of the barbers and hairdressers in Dallas, is a fixture of the community, and has cut hair for generations of Michigan families," said Luther. "Governor Whitmer has taken away his way of life, and his ability to support his family. Like Texas, Michigan needs to open up safely, and it needs to open up now. I'm standing with Karl, and will help him in any way I can."