Okay, I need to clear something up here. It's fine if you don't like either former president Ronald Reagan or current president Donald Trump. But, if you actually think that either or both of those men are worse than National Socialist (Nazi) German dictator Adolf Hitler was, then you might want to drop out of college and go back to grade school because the educational system failed you. Either that or you're just dumb.
Prager University (PragerU) released a new video on their YouTube channel Wednesday in which they asked COLLEGE students at California State University, Northridge to rank from best to worst different leaders throughout American history, including Trump and Hitler.
Since the video involves the double-whammy of asking college students historical questions and being in California, you can imagine how this went.
At one point in the video, after a few students had placed Trump as worse than Hitler, one student said possibly one of the dumbest things ever said about Hitler.
"Hitler's a real pimp," the student said. "He upfront with his stuff."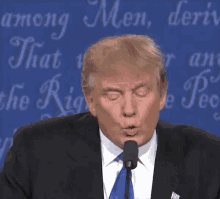 There were a couple of students shown that got at least some of the order correct, and by correct I mean placing Hitler last.
Watch the video below:
I can't. I'm laughing, but not because of their answers. It's hilarious that these students are either racking up student loan debt or essentially robbing their parents for tuition, because college is clearly not for all of them.
How do you even get that far in school thinking like that or believing the things they think to be true? Oh, that's right. The public school system, of which I thankfully got out of unscathed. Anytime the government is in charge of something, it either slows down to a crawl or makes everyone within a square mile radius of it dumber.