Deepa Kumar is an associate professor of  "Journalism and Media Studies" at the publicly-funded Rutgers University. She is an academic, media commentator, activist, and author of two books, Outside the box: Corporate Media, Globalization, and the UPS Strike and Islamophobia and the Politics of Empire.
Recently, SoCawlege revealed something interesting about her public statements made on her website and Twitter. Professor Kumar is quite vocal about her anti-American and anti-Israel viewpoints.
Here, she makes the claim that the United States is more brutal than ISIS: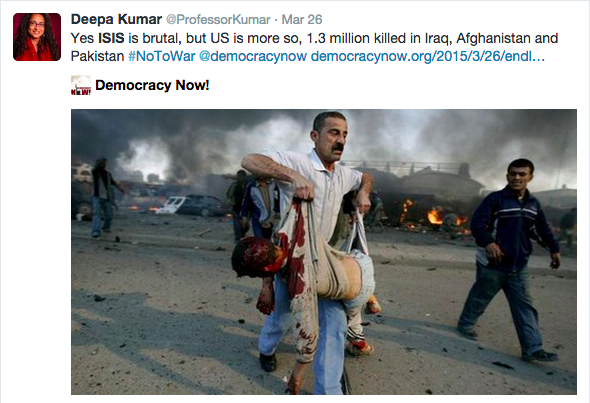 However, she appears to be living in the brutal United States quite nicely...
Next, Professor Kumar defends the terrorist organization Hamas by stating that they should not be "blamed" for the conflict that broke out with Israel.

As you can see from words on these picket signs, Professor Kumar is also an environmental-Marxist. These protesters believe that it is the devil known as capitalism that is "killing the planet." Their solution? Fight for a socialist future.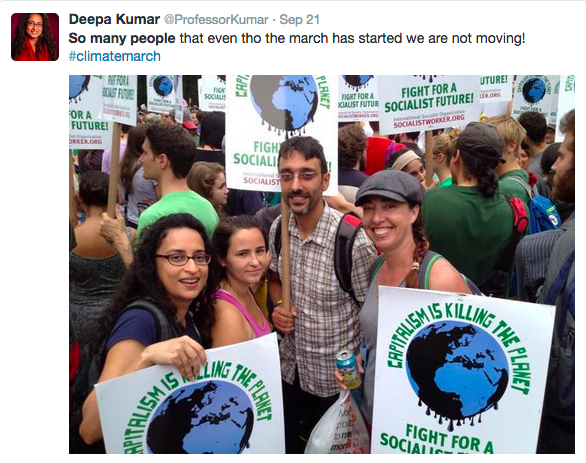 Most concerning is Professor Kumar's active opposition of allowing the free exchange of ideas on campus. If something goes against her world view, it is wrong and simply can't exist. Here, she is organizing and fighting the decision of Rutgers to have Condoleezza Rice give a commencement speech at the university: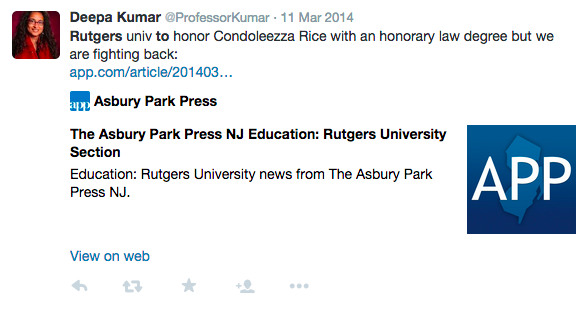 Due to protests at the university, Secretary Rice had no choice but to back out of her commencement speech as she was clearly not welcome by faculty or students. A victory for academic leftism and the silencing of conflicting viewpoints.