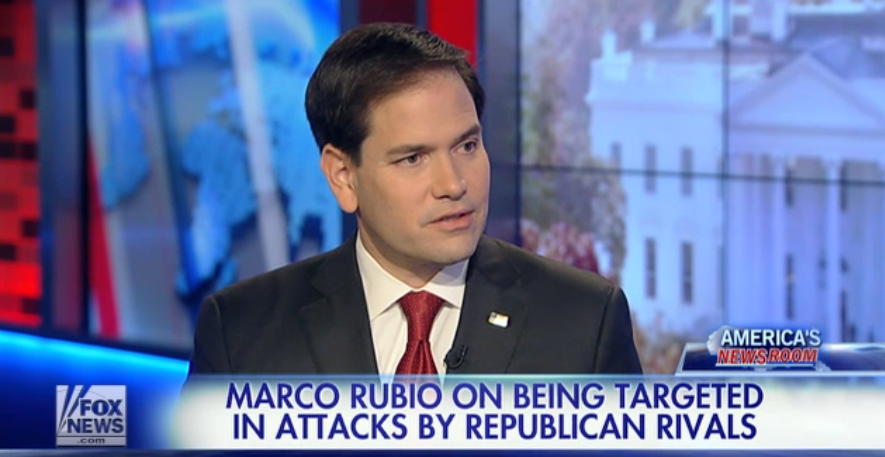 Republican presidential candidate Donald Trump criticized fellow GOP contender Marco Rubio on Tuesday for being a so-called "disaster with credit cards."
"For years I've been hearing that his credit cards are a disaster," said Trump. "[Rubio] certainly lives above his means. There's no question about that."
In an appearance on "America's Newsroom" Wednesday morning, Rubio responded to Trump's remarks about his personal finances by saying that, unlike the real estate mogul who was able to receive a "small loan of a million dollars" from his father, he was not afforded the same luxury.
"I didn't inherit any money," said Rubio.
"My parents weren't able to pay for me to go to school so I had student loans that I had to pay off."
The Florida senator said thinks it would be "good for our country to have a president" who has experienced a financial setback of some sort, like when his primary residence in Miami suffered a significant loss of value in the 2005 housing market crash.
"I think it's good for our country to have a president that knows what it's like -- despite the fact you did nothing wrong -- to have your home lose its value," said Rubio. "Millions of Americans have gone through that." 
Rubio argued that his past financial hardships and personal experience growing up "paycheck to paycheck" will give him an edge in a potential debate with Democratic presidential candidate and former Secretary of State Hillary Clinton. 
"That's why I look forward to that debate with Hillary Clinton," he said.
"How's she going to say that I don't understand the plight of people that are struggling in America when I myself, through my parents and our upbringing, lived it?" 
Sen. Marco Rubio went on to note that previous reports about his credit card spending while serving in the Florida state legislature have been "largely discredited."
"The only debt I have in the world is the mortgage on my primary residence," he said.
Check out Rubio's full remarks in the video below.