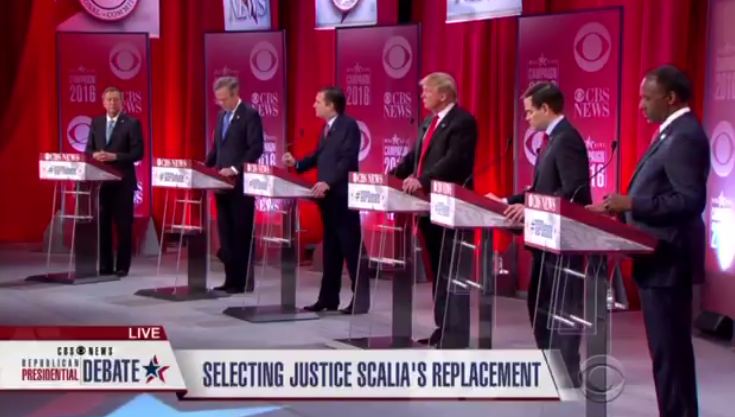 Image via Screenshot
Shortly after taking a moment of silence to commemorate the late U.S. Supreme Court Justice Antonin Scalia during Saturday night's CBS Republican presidential debate, candidates were asked whether President Obama should be the one to nominate Scalia's successor.
In agreement with his fellow contenders, Florida Sen. Marco Rubio argued that Obama should let the country focus on the current election and allow the next president to select a replacement.
"It's been over 80 years since a lame duck president has appointed a Supreme Court justice," Rubio argued.
"And it reminds us of this, how important this election is," he continued. "Someone on this stage will get to choose the balance of the Supreme Court, and it will begin by filling this vacancy that's there now. We need to put people on the bench that understand that the Constitution is not a living and breathing document. It is to be interpreted as originally meant."
Cruz added that, if elected to the Oval Office, he plans to nominate a "confirmed principled Constitutionalist" to the Supreme Court. 
Check out the candidates' remarks below.