During a speaking event at the Council on Foreign Relations, Sen. Marco Rubio (R-Fla.) discussed the importance of American strength in dealing with the threats of the 21st century.
"American strength is a means of preventing war, not promoting it," the 2016 presidential candidate said. "Weakness, on the other hand, is the friend of danger and the enemy of peace."
He explained that the world has changed since decades past, but the need for American strength has become "more pressing."
As the world has grown more interconnected, with technology demolishing the barriers to travel and trade, a strong America is all the more imperative, Rubio told the audience at CFR:
"The prosperity of our people now depends on their ability to interact freely and safely in the international marketplace," he said.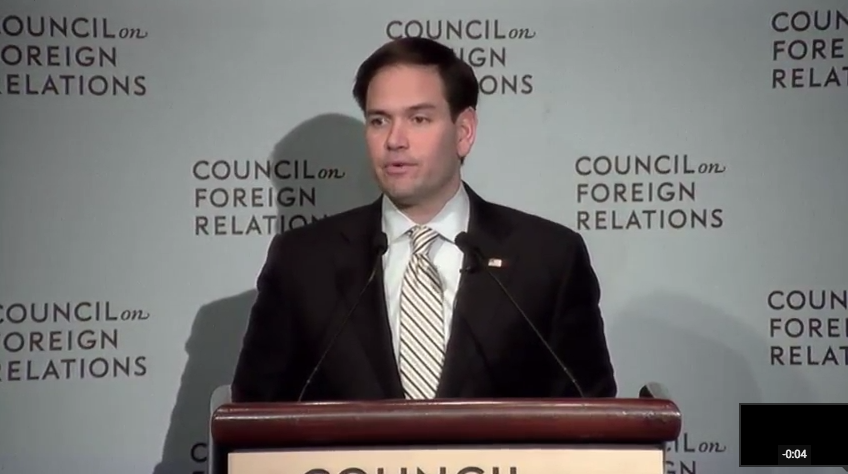 "And so today as never before, foreign policy is domestic policy," Rubio argued.
The Florida senator went on to slam President Obama and potential 2016 Democrat nominee Hillary Clinton as "the failed leadership of yesterday."
He criticized Obama for embracing regimes, such as Iran, Russia, and Cuba, "that systematically oppose every principle our nation has long championed," and Mrs. Clinton for being "ineffective at best and dangerously negligent at worst" during her four-year stint as the President's Secretary of State.
"The question before us is not should we lead, but rather how should we lead," Rubio fired.
He continued the conversation by laying out his foreign policy agenda heading into the 2016 presidential election. 
For Sen. Marco Rubio's full remarks, check out the video below.