Following Marco Rubio's claim during Thursday's Republican debate that Donald Trump would be "selling watches in Manhattan" if he hadn't inherited a million dollars from his father, Rubio's campaign store has begun advertising a "Trump watch."
Sort of.
Rubio's store now features an ad showing a broken watch for sale. But, the ad makes it clear that no such watches actually exist and that he is simply asking for a $10 contribution to help stop Trump.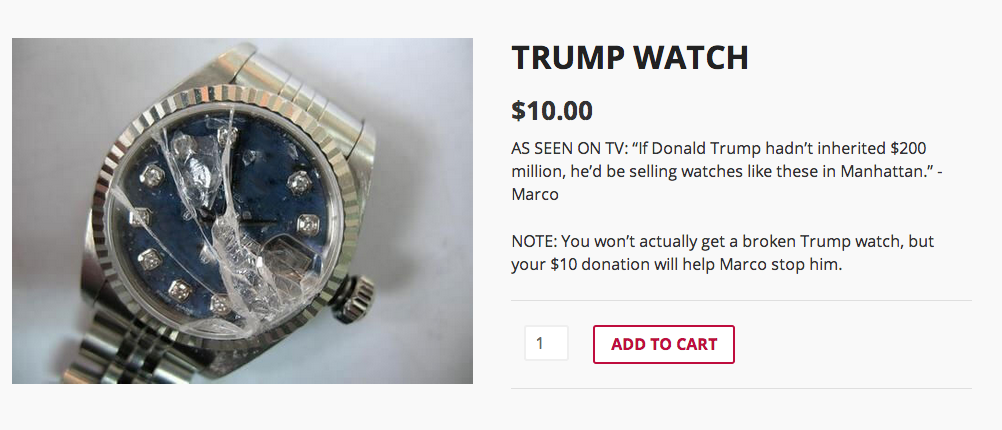 The satirical ad follows Rubio's debate performance in which he repeatedly mocked Trump for what he claimed were a lack of clearly-defined policy proposals and his tendency to repeat himself.
Following the debate, CNN's Chris Cuomo asked Trump about Rubio's "watch" joke. Here was Trump's response:
MRCTV Reader,
The liberal media are terrified of the truth, especially when it leads to uncomfortable questions about their own leftist worldview.
MRCTV is the multimedia division of MRC featuring original content and aggregated videos of the news, people, and events conservatives care about.
MRCTV relies on the support of our loyal readers (and video viewers) to keep providing the news and commentary that matter to the American people, not just stories that prop up the liberal agenda.
Make a donation today. Just $15 a month would make a tremendous impact and enable us to keeping shining the light where the liberal media are afraid to tread.
— The MRCTV Team
DONATE
Connect
Sign up for our MRCTV newsletter to receive the latest news.
Sponsored Links