Deputy Attorney General Rod Rosenstein is still currently employed by the Trump administration.
Various media reports had speculated that he was resigning or was set be fired Monday following remarks regarding the 25th Amendment and secretly recording the president, that were attributed to him in a report published in the New York Times. 
"The New York Times's story is inaccurate and factually incorrect. I will not further comment on a story based on anonymous sources who are obviously biased against the Department and are advancing their own personal agenda," Rosenstein said in a statement last Friday. "But let me be clear about this: based on my personal dealings with the President, there is no basis to invoke the 25th Amendment."
Rosenstein did meet with White House Chief of Staff John Kelley Monday morning, but retains his position at the Department of Justice where he oversees the Russia investigation.
White House Press Secretary Sarah Huckabee Sanders Tweeted Monday afternoon: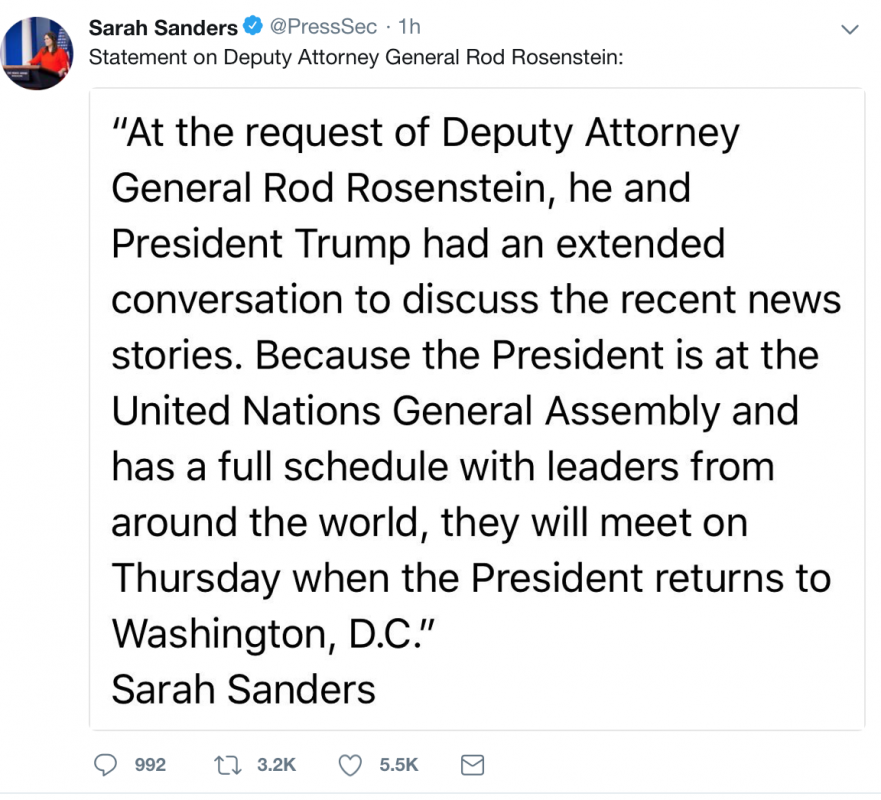 "At the request of Deputy Attorney General Rod Rosenstein, he and President Trump had an extended conversation to discuss the recent news stories. Because the President is at the United Nations General Assembly and has a full schedule with leaders from around the world, they will meet on Thursday when the President returns to Washington, D.C."