ABC has canceled Roseanne following a Roseanne Barr tweet that suggested former Obama White House adviser Valerie Jarrett was a product of the Muslim Brotherhood and the "Planet of the Apes."


ABC's president of entertainment Channing Dungey announced in a statement that Barr's tweet is "inconsistent with our values, and we have decided to cancel her show."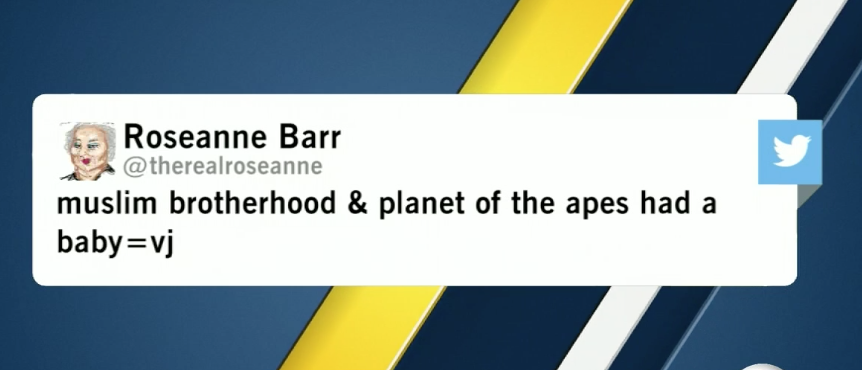 Before the announcement on Tuesday, Barr apologized to Jarrett for "making a bad joke about her politics and her looks." Barr deleted the tweet and she said she is leaving Twitter.
The rebooted sitcom was highly rated and successful when relaunched for the 2017 - 18 season. It was in production on it's second season when the cancellation was announced.
MRCTV Reader,
The liberal media are terrified of the truth, especially when it leads to uncomfortable questions about their own leftist worldview.
MRCTV is the multimedia division of MRC featuring original content and aggregated videos of the news, people, and events conservatives care about.
MRCTV relies on the support of our loyal readers (and video viewers) to keep providing the news and commentary that matter to the American people, not just stories that prop up the liberal agenda.
Make a donation today. Just $15 a month would make a tremendous impact and enable us to keeping shining the light where the liberal media are afraid to tread.
— The MRCTV Team
DONATE
Connect
Sign up for our MRCTV newsletter to receive the latest news.
Sponsored Links