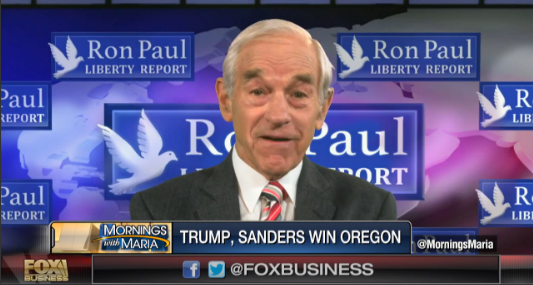 While appearing on FOX Business on Wednesday, former Rep. Ron Paul (R-Texas) refused to endorse presumptive Republican nominee Donald Trump, stating he is "waiting for Trump to become a libertarian."
Paul, who has said before he will not support Trump for president, was asked if he has changed his opinion in light of Trump getting closer to officially securing the Republican nomination.
Paul responded, "No, I'm still sticking to my original opinion about this."
"Well, I'm sort of waiting for Trump to become a libertarian," he said.
Asked what Trump would have to say to earn his support, Paul said, "Well, not very much, because you wouldn't know what to believe. He's all over the map. I don't know what he really believes in. He doesn't have a philosophy."
Ron Paul's announcement comes as his son, Sen. Rand Paul (R-KY), repeated his promise to support the Republican nominee. Instead of explicitly endorsing Trump, Rand said he will "endorse the nominee."
The owners of RonPaul.com, which have been in a long legal battle with Ron Paul over the namesake of their website, have also endorsed Trump.
Trump holds many views that libertarians disagree with, such as his support for a 45 percent tariff on Chinese goods, his support for expanding libel laws, and his calls for greater immigration restrictions.