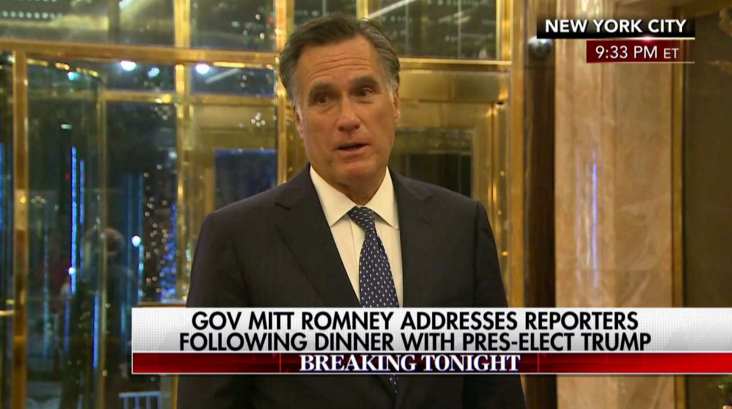 (Image via Twitter)
Following a dinner with president-elect Donald Trump and Republican National Committee chairman Reince Priebus in New York City Tuesday night, Mitt Romney told reporters that he thinks "America's best days are ahead of us."  
Romney, a former Massachusetts governor and the 2012 GOP presidential nominee, is rumored to be at the top of the list of Trump's potential candidates for secretary of state.
While he did not say whether he was offered the cabinet position, Romney spoke positively about Trump and his transition efforts.
"His vision is something which obviously connected with the American people in a very powerful way," said Romney.
"I've been impressed with what I've seen in the transition effort," he went on. "The people he has selected as members of his cabinet are solid, effective, capable people."
Romney said that the discussions he's had with Trump since the election and the people Trump has since picked for his cabinet have reassured him of the president-elect as a capable leader. 
"I happen to think that America's best days are ahead of us," said Romney. "I think you're gonna see America continue to lead the world in this century. And what's I've seen through these discussions I've had with president-elect Trump … as well as the people he selected as part of his transition -- all of those things combined give me increasing hope that president-elect Trump is the very man that can lead us to that better future."
Romney was one of Trump's most outspoken Republican critics during his primary and general election campaigns.
Members of Trump's transition team and allies such as former Alabama governor Mike Huckabee and former House Speaker Newt Gingrich have warned against Romney becoming Trump's secretary of state, the most coveted cabinet position. 
Check out Romney's remarks below.