Rock the Vote, a nonprofit that rallies young people to go to the polls, is angry with Eric Trump for using their graphic to encourage people to vote.
Trump in a tweet on Tuesday used the graphic as a reminder that Oct. 9 was the last day to register to vote for the upcoming midterm elections in certain states.
"It is VERY easy to register," he wrote. "Simply go to Vote.GOP #MakeAmericaGreatAgain."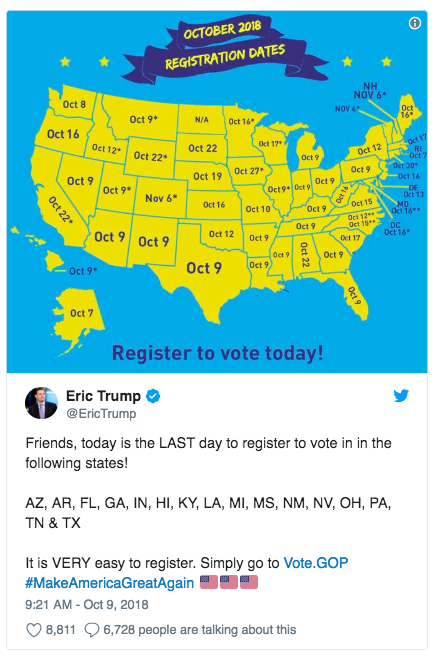 Rock the Vote lashed out at Trump for posting the graphic with their logo cropped out and for having the nerve to encourage people to register to vote through an RNC-funded website.
"This goes beyond the page of how our democracy should work," president and executive director of Rock The Vote,Carolyn DeWitt, said in a statement to CNN. 
In the statement, she accused Trump and his father President Donald Trump of "only wanting a select few to register to vote and participate in our democracy."
The Twitter account for the Rock the Vote Action Fund, a sister organization to Rock the Vote, went a step further and blatantly accused Trump of "partisan hackery" and supporting "voter suppression & the disenfranchisement of millions."
"We know you're accustomed to ripping folks off, but claiming our graphic for partisan hackery when you support voter suppression & the disenfranchisement of millions is gross, even for you," wrote the group, along with two screenshots showing their graphic and Trump's cropped version.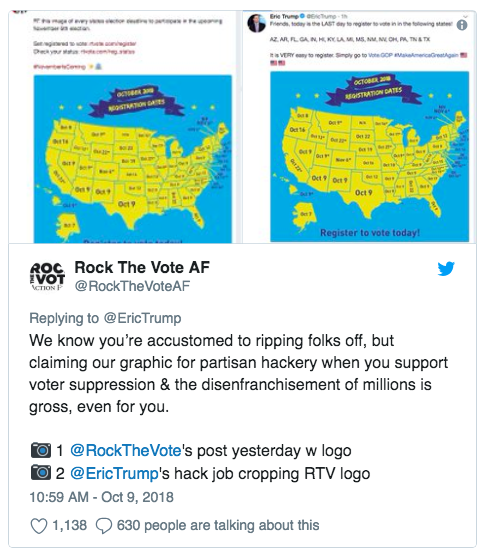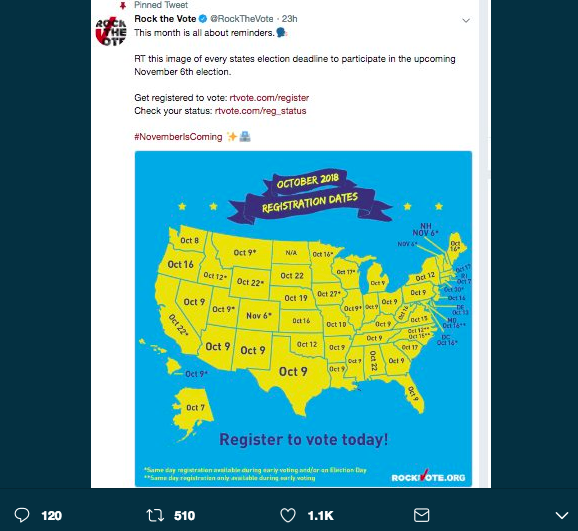 Talk about an overreaction. What was he supposed to do? Link to the DNC's voter registration website? He's a Republican and wants Republicans to win. What about all of the Democrats encouraging other Democrats to vote? Should they be attacked, too? 
Rock the Vote on its website claims to be a "nonpartisan nonprofit," but their words and actions say differently.
For goodness sake, its action fund on its website says that it is "dedicated to building the political power of young progressives and leveraging power for action on progressive issues."
Trump has not issued a response -- and probably won't waste his time on one, either.
MRCTV Reader,
The liberal media are terrified of the truth, especially when it leads to uncomfortable questions about their own leftist worldview.
MRCTV is the multimedia division of MRC featuring original content and aggregated videos of the news, people, and events conservatives care about.
MRCTV relies on the support of our loyal readers (and video viewers) to keep providing the news and commentary that matter to the American people, not just stories that prop up the liberal agenda.
Make a donation today. Just $15 a month would make a tremendous impact and enable us to keeping shining the light where the liberal media are afraid to tread.
— The MRCTV Team
DONATE
Connect
Sign up for our MRCTV newsletter to receive the latest news.
Sponsored Links