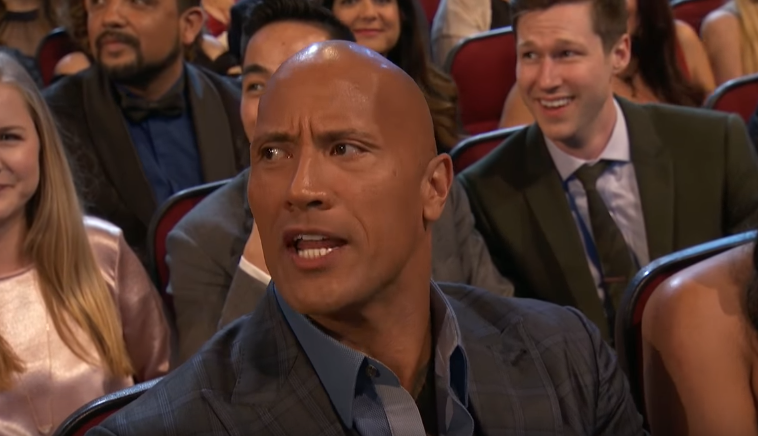 Apparently, what the Rock is cooking is a steaming pile of liberal celebrity "tolerance."
Dwayne "The Rock" Johnson has come out publicly to condemn a pro-Trump statement by Under Armour CEO Kevin Plank. Johnson joins fellow Under Armour-sponsored celebrity athletes, Golden State Warriors point guard Stephen Curry and ballet dancer Misty Copeland.
Plank went on CNBC's "Fast Money Halftime Report" on Tuesday and voiced his approval of President Trump's business sense.
"To have such a pro-business president is something that is a real asset for the country," Plank said.
Johnson, who spoke at the 2000 Republican National Convention, took to Instagram on Thursday to voice his displeasure with Plank's comments.
"His words were divisive and lacking in perspective," Johnson wrote in the post.
It's not clear how voicing an opinion on a specific issue translates into support for someone, but once celebrities can give logical reasons for disagreeing, other than simply disliking someone, then maybe we will take their complaints seriously. It's also not clear whether Johnson jumped off the Republican ship in order to join the Hollywood liberal "elite." But as one of the biggest movie stars on the planet, it's probably not a wise career move to step out of the liberal line.
Johnson also noted, "I feel an obligation to stand with this diverse team, the American and global workers, who are the beating heart and soul of Under Armour and the reason I chose to partner with them."
Kind of sounds like the radical Left mantra of, "Workers of the world, unite!"
Curry said this on Wednesday of Plank's comments: "I agree with that description, if you remove the 'et.'"
Curry basically just called Trump an "ass."
Copeland said in part of her statement on Instagram Thursday:
As someone who takes my responsibility as a role model very seriously, it is important to me that he, and UA, take public action to clearly communicate and reflect our common values in order for us to effectively continue to work towards our shared goal of trying to motivate ALL people to be their best selves.
I think what these very privileged celebrities forget is that they are paid handsomely to wear Under Armour's products. You can disagree with Plank's comments all you want, but to do it publicly and make a mockery of what Plank actually said might not be the best business move. By hurting the company that in part supports them financially, they are just hurting themselves as well. If they convince people to not buy Under Armour because of their comments, that means that the products with their names on them won't sell either.
The company was basically shanghaied by the progressive Left to issue a statement explaining Plank's comments and essentially apologizing to anyone who might have felt triggered.
Part of the Under Armour statement reads:
We engage in policy, not politics. We believe in advocating for fair trade, an inclusive immigration policy that welcomes the best and the brightest and those seeking opportunity in the great tradition of our country, and tax reform that drives hiring to help create new jobs globally, across America and in Baltimore.
In essence, Under Armour is saying, "We apologize for our CEO having his company's - and American workers' - best interests in mind, and we will strive to be as 'tolerant' as liberals tell us we should be."
Let's just hope that Under Armour doesn't go the way of other companies and put politics before good business.
For Johnson's full Instagram statement, read below: