When I was a child who frequented my local children's museum I always left having learned something new. Whether it was a new fact about dinosaurs, a new constellation to look for in the sky, a new understanding of play-pretend or anything else actually beneficial, my mom was always pleased to bring me. Nowadays however, children's museums, well at least the one in Richmond, VA, are more focused on teaching about progressivism than things that are actually important or appropriate for kids to learn. 

On Dec, 13 the Children's Museum of Richmond tweeted about its latest Pride Night. The museum was thrilled at the turnout after inviting LGBTQIA+ families and the group "can't wait to do it again."
Related: Mark Your Calendar! Largest Ever Drag Queen Story Time Coming to Florida In January
This year's event was made possible with collaboration from Black Pride RVA, Diversity Richmond, He She Ze and We, Side by Side, SPARC Spectrum, and Virginia Pride … all woke organizations and groups. 
It's funny that all these obviously anti-Christian groups were celebrating Christmas.
Here's an image of the tweet.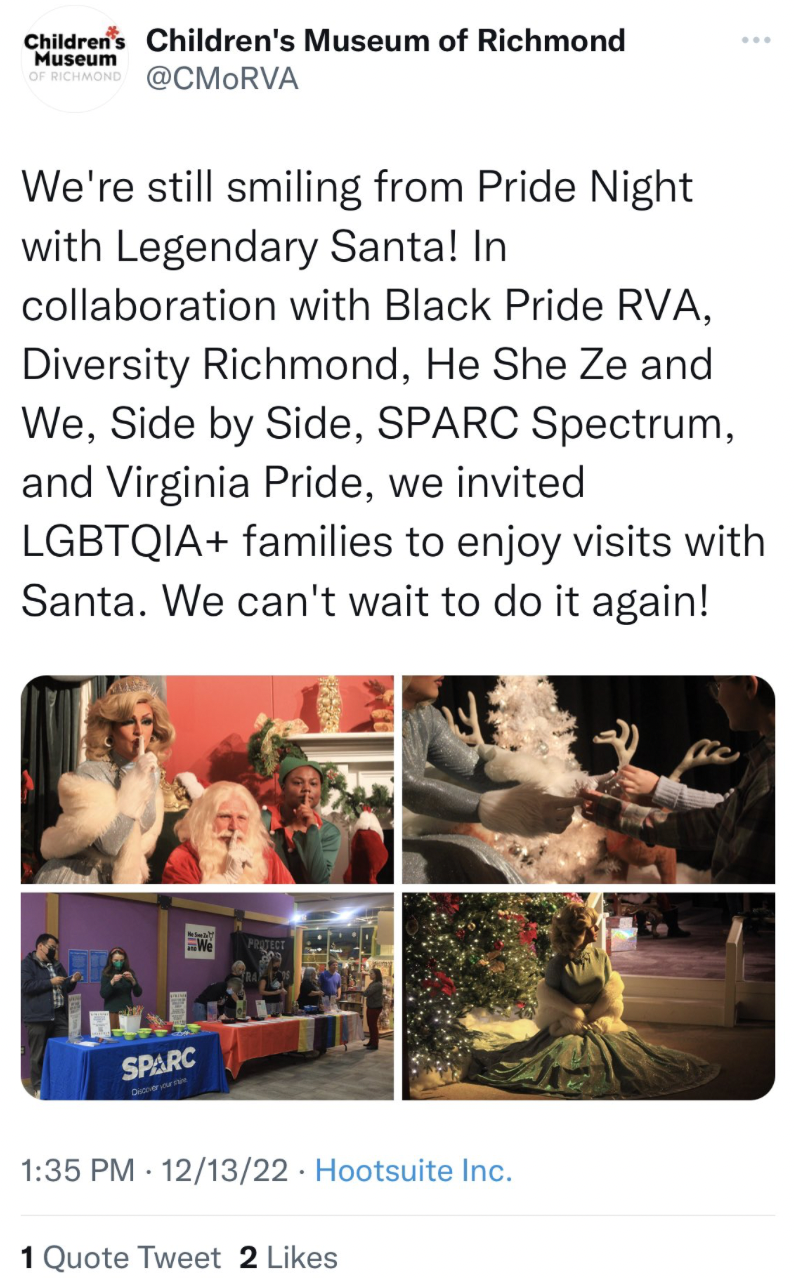 The Twitter account supposedly limited comments on the page and now has made its account private, undoubtedly from the backlash it received. 
Here's some tweets that called out the museum for its obvious grooming behavior.
 
Absolutely shameful.
All my friends are cancelling their membership.
Let the kids alone!#groomer https://t.co/sYiyFuVMal

— Truthseeker (@truthseeker4him) December 14, 2022
Dear Childrens Museum of Richmond, we won't be renewing our membership any time soon.

This is inappropriate for children.@libsoftiktok @BillboardChris @againstgrmrs https://t.co/QbQJ2r4hVd

— Erik Bootsma🌸🇳🇱 (@ErikBootsma) December 14, 2022
The museum website indicated that "Legendary Santa and the lovely Snow Queen have been delighting families for 86 years." But this year, the Snow Queen was played by drag queen Michelle Livigne who told his Instagram how excited he was that he "made history."
As gross as this is, acts like these have become "normal" behavior for today's world. Drag queens and anything that contributes to grooming or indoctrinating behavior should have no place whatsoever in children's lives. Kids don't have the brain capacity to understand what all is going on when a man in a dress is talking to them and that's the thing, kids shouldn't have to. 
The people who put on this event for kids are sick and so are any of the parents who dragged their innocent children to attend. 
Follow us on Twitter:
Drag queens dancing in thongs in front of children, and teachers who pretty much do everything except teach.@tierin_rose is back exposing the most woke and insane things from the Left in the latest Woke of the Weak! pic.twitter.com/0Y1jeT5ISJ

— MRCTV (@mrctv) December 14, 2022