The U.S. Department of Homeland Security (DHS) may soon begin turning away all persons who cross the border illegally including asylum seekers amid the ongoing coronavirus crisis, according to a report by Fox News Tuesday night.
"The idea is currently being developed by DHS staff, but there is still more work to do to be done, before it's presented to President Trump for a final decision," writes Fox News. "A DHS spokesperson told Fox News that the president has the authority to do whatever is necessary to protect the American public from this potentially deadly disease."
The DHS official that spoke with Fox News reportedly said that the President is "100 percent committed to protecting the American people from coronavirus and all options are in the table."
President Trump Tuesday night retweeted an article by TIME Magazine about this news, as though confirming the report.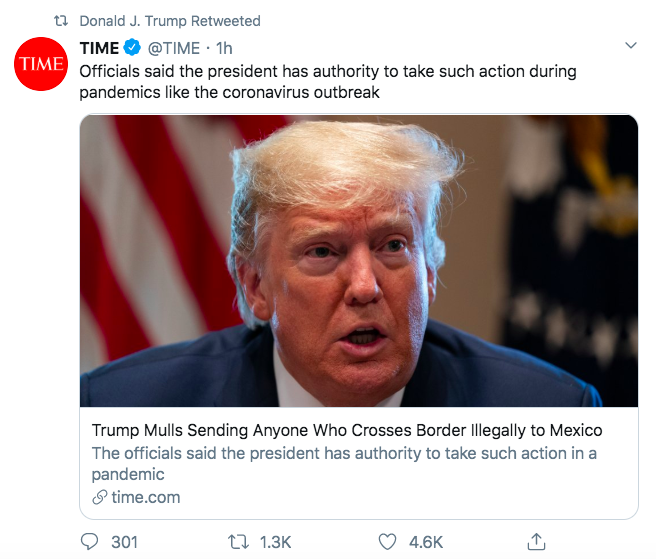 The news was first reported by The New York Times, which claims that the new rule was expected to be announced in the next 48 hours and would not affect "American citizens, green card holders and some foreigners with proper documentation."
"But under the new rule, set to be announced in the next 48 hours, Border Patrol agents would immediately return to Mexico anyone who tries to cross the southern border between the legal ports of entry," writes The Times. "Under the policy, asylum seekers would not be held for any length of time in an American facility nor would they be given due process. Once caught, they would be driven to the nearest port of entry and returned to Mexico without further detention."
The Times adds, "Although they advised that details of the policy could change before the announcement, administration officials said the effort was critical to avert an outbreak of the coronavirus inside detention facilities along the border."
President Trump tweeted last week that if the U.S. "had weak or open borders," the country's death toll "would be many times higher."