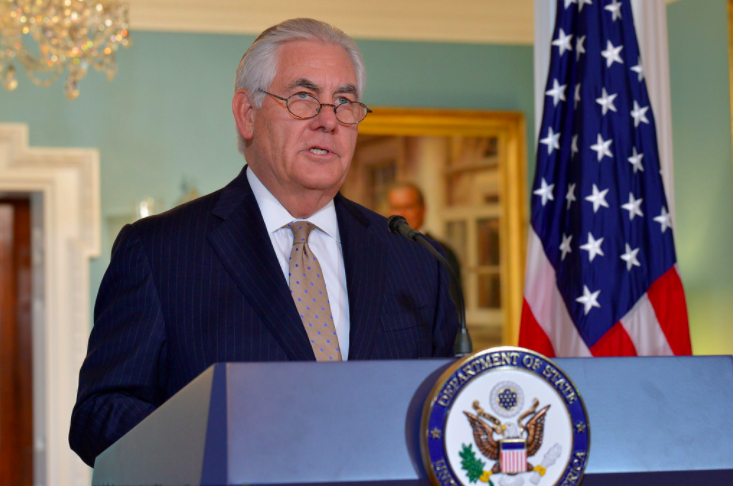 Image via Flicker - U.S. Department of State
According to a report by The New York Times, Secretary of State Rex Tillerson is on his way out of the State Department.
He is expected to be replaced by CIA Director Mike Pompeo possibly within the next several weeks, senior administration officials told The Times on Thursday.
"It was not immediately clear whether Mr. Trump has given final approval to the plan, but he has been said to have soured on Mr. Tillerson and in general is ready to make a change at the State Department," writes The Times. "Mr. Tillerson was at the White House on Thursday morning, although he was not listed on the White House public schedule."
"Asked by reporters on Thursday if he wanted Mr. Tillerson to stay on the job, Mr. Trump said only, 'He's here. Rex is here.'"
The Times reports that the plan to oust Tillerson was hatched by White House chief of staff John Kelly, part of his efforts to shake up the President's national security team.
It is no secret that Tillerson and Trump have had their disagreements over how to approach North Korea.   
"The secretary was reported to have privately called Mr. Trump a 'moron' and the president publicly criticized Mr. Tillerson for 'wasting his time' with a diplomatic outreach to North Korea," The Times writes.
Still, the report of Tillerson's planned exit has not yet been confirmed by the Trump administration.
White House press secretary Sarah Huckabee Sanders on Thursday issued a statement saying that Tillerson "continues to lead the State Department" and that "there are no personnel announcements at this time."
MRCTV will provide more updates. This story is developing.  
Thank you for supporting MRTV! As a tax-deductible, charitable organization, we rely on the support of our readers to keep us running! Keep MRCTV going with your gift here!