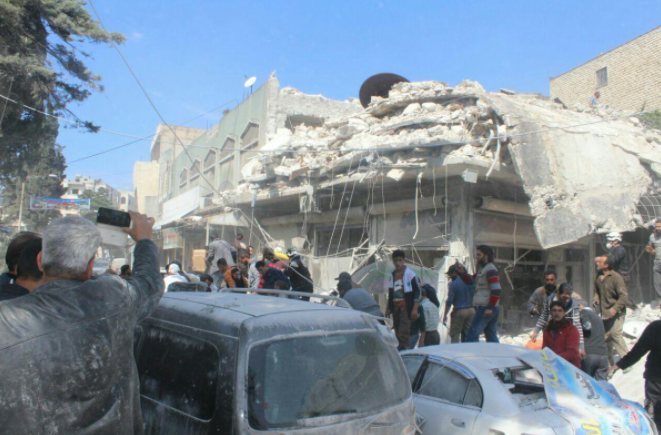 (Image via Twitter)
The Syrian town that was victim to a deadly chemical attack earlier this week was targeted yet again on Saturday with an airstrike, reportedly carried out by Russian warplanes.
"A fatal airstrike occurred Saturday in the same northern Syrian town hit earlier this week by a deadly chemical weapon attack, according to several international monitoring groups," Fox News reports. "The airstrike on the town of Khan Sheikhoun killed a woman, following the chemical attack Tuesday that killed 87 people, including children."
"The chemical attack purportedly was authorized by Syrian President Bashar Assad and targeted the town because it is a stronghold for rebel forces trying to topple his regime in the country's 6-year-long civil war," Fox News writes. "The Local Coordination Committees, another monitoring group, said the airstrike Saturday was carried out by warplanes from Russia, which has backed Assad."
The Syrian Observatory for Human Rights confirmed another airstrike on the same town on Friday, carried out by either Syrian or Russian forces. 
"The monitor said the aircraft belonged to either the military of Syrian President Bashar al-Assad or the Russian air force, operating in the country in support of the internationally-maligned dictator," reports Newsweek. 
The number of casualties for the Friday airstrike remains unknown. 
The U.S. has yet to respond to reports of additional airstrikes on the northern Syrian town of Khan Sheikhou.
President Trump responded to Tuesday's chemical attack with a series of airstrikes overnight Thursday. He condemned Syria's president Bashar Assad and called on "all civilized nations" to join the U.S. "in seeking to end this slaughter and bloodshed in Syria, and also, to end terrorism of all kinds and all types."
Russia condemned the U.S. airstrikes as an "act of aggression."
Syria's government continues to deny responsibility for the chemical attack.
Thank you for supporting MRCTV! As a tax-deductible, charitable organization, we rely on the support of our readers to keep us running! Keep MRCTV going with your gift here!