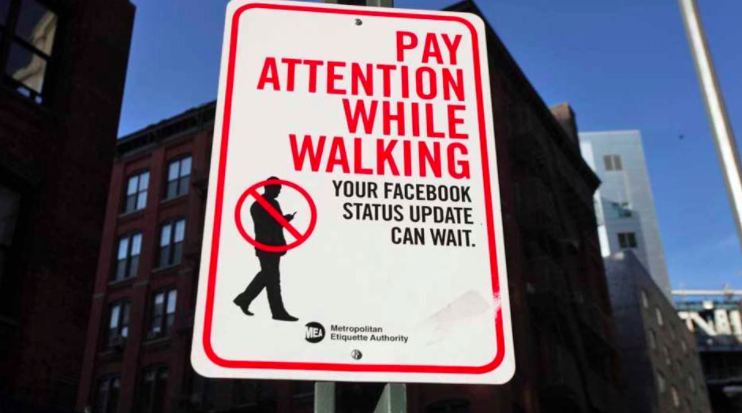 (Image via Twitter)
Pedestrian deaths saw a significant spike in 2016, reaching a staggering total of 5,997, the highest total ever recorded since the U.S. began tracking the measure more than two decades ago. 
The reason? People are distracted more than ever by texting and using their smartphones.
According to preliminary state data gathered for the Governors Highway Safety Association (GHSA), pedestrian fatalities surged 11 percent from 2015 to 2016, continuing an upward trend.
Pedestrian fatalities surged 10 percent from 2014 to 2015.
According to the Associated Press,
"Increased driving due to an improved economy, lower gas prices and more walking for exercise and environmental factors are some of the likely reasons behind the estimated 11 percent spike in pedestrian fatalities in 2016. The figures were prepared for the Governors Highway Safety Association, which represents state highway safety offices.

"But researchers say they think the biggest factor may be more drivers and walkers distracted by cellphones and other electronic devices, although that's hard to confirm.

"Walking and miles driven are up only a few percentage points, and are unlikely to account for most of the surge in pedestrian deaths, said Richard Retting, safety director for Sam Schwartz Transportation Consultants and the author of the report. Meanwhile, texting and use of wireless devices have exploded, he said."
Overall, an estimated 5,997 pedestrian fatalities occurred in 2016, up 11 percent from 5,376 in 2015 and up 22 percent from 4,910 in 2014.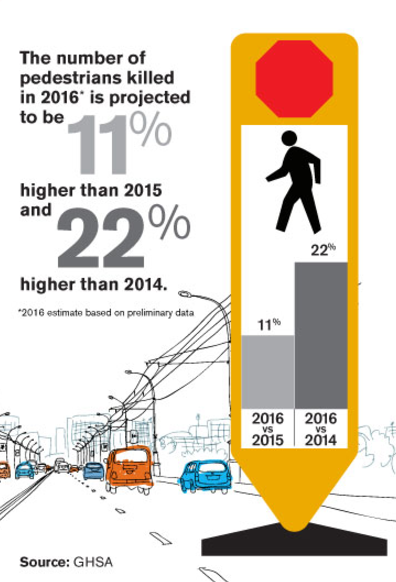 (Image via GHSA)
Traffic fatalities also saw a significant increase, rising 6 percent from 2015 to 2016: 
"Traffic fatalities overall jumped 6 percent last year, pushing deaths on U.S. roads to their highest level in nearly a decade and erasing improvements made during the Great Recession and economic recovery, according to data released last month by the National Safety Council, a leading safety organization," reports AP. "The council estimates there were more than 40,200 traffic deaths in 2016. The last time there were more than 40,000 fatalities in a single year was in 2007, just before the economy tanked. There were 41,000 deaths that year."
"But pedestrian deaths are sharply outpacing fatalities overall," AP writes, "climbing 25 percent from 2010 to 2015, according to [Richard] Retting's research. Total traffic deaths increased about 6 percent over the same period."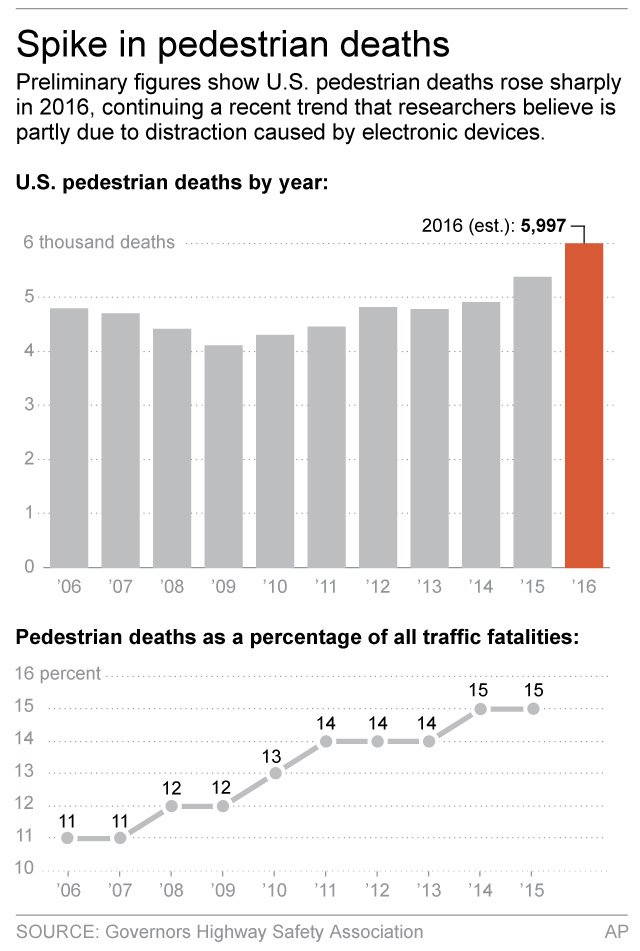 (Image via AP)
"Everyone walks, and we want to encourage that, but at the same time we want to make sure that we all get to our destinations safely," said GHSA Executive Director Jonathan Adkins in a press release. "Unfortunately, this latest data shows that the U.S. is not meeting the mark on keeping pedestrians safe on our roadways."
"Every one of these lives represents a loved one not coming home tonight which is absolutely unacceptable," he said.
The GHSA is recommending states implement public information campaigns and strategies to make potential hazards more visible to pedestrians. 
What's the true moral of the story? Put your phones down, people, and pay attention to your surroundings. 
Thank you for supporting MRCTV! As a tax-deductible, charitable organization, we rely on the support of our readers to keep us running! Keep MRCTV going with your gift here!