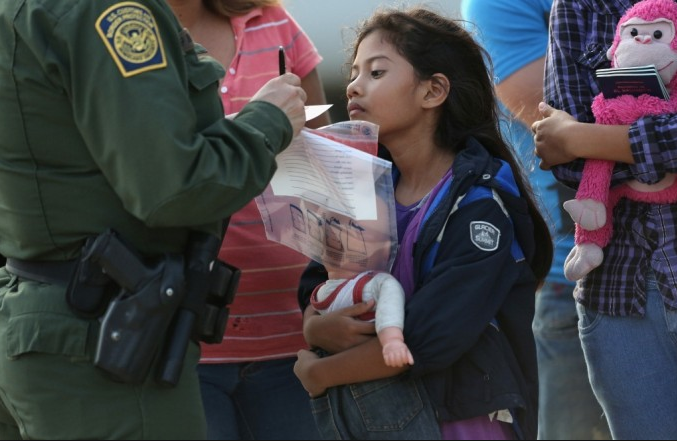 By 2023, immigrants will account for more than one in seven U.S. residents (51 million), reportedly "the largest share ever recorded in American history," analysis of new Census Bureau projections by the Center for Immigration Studies (CIS) shows.
Even more, the Bureau predicts that the immigration population will grow to nearly one in five U.S. residents (78 million) by 2060.
One facet of the projections receiving scant coverage is how this increase in America's net immigrant population is largely being driven by legal immigration, not illegal.
CIS Director of Research Steven Camarota says that "these numbers have important implications for workers, schools, infrastructure, congestion, and the environment."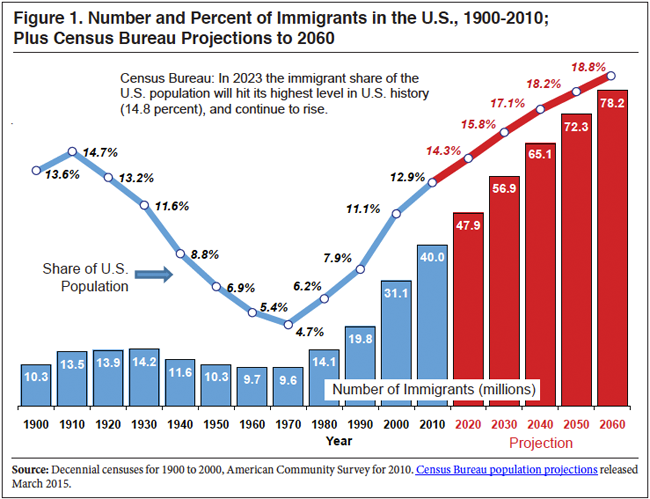 "They also may have implications for our ability to successfully assimilate and integrate immigrants," he notes.
"Yet there has been almost no national debate about bringing in so many people legally each year, which is the primary factor driving these numbers."
It was recently revealed that the Obama administration is facilitating this increase using American citizen taxpayer dollars to provide individuals related to foreign-nationals residing in the U.S. free transportation from three specific Central American countries: El Salvador, Guatemala, and Honduras.
According to a recent Department of Homeland Security (DHS) memo on the new Central American Minors (CAM) Refugee/Parole Program, the administration is providing "certain children in El Salvador, Guatemala and Honduras with a safe, legal, and orderly alternative to the dangerous journey that some children are undertaking to the United States," no doubt devised in response to the humanitarian disaster that took place last summer wherein hundreds of thousands of unaccompanied minors traveled from Central America and Mexico to cross the U.S.-Mexico border. 
The CAM program began accepting applications from "qualifying parents" on Dec. 1, 2014. In order to qualify for resettlement, children must be unmarried, under the age of 21, and residing in the aforementioned three Central American countries. Their parents need only be legally present in the U.S. or the spouse of a legal resident. Thus, it doesn't necessarily matter whether the applicant has lived in the U.S. illegally for years or is currently illegal.
Once accepted into the program, the person with refugee or parole status then has the ability to receive a green card and citizenship. 
Sen. Jeff Sessions (R-Ala.), the Chairman of the Subcommittee on Immigration and National Interest, announced in a press release this week that a hearing will be taking place on Thurs., Apr. 23, regarding the resettlement program.
Among the Census Bureau findings, here are the major takeaways:
"Absent a change in current policy, the Census Bureau projects that in 2023 the nation's immigrant population (legal and illegal) will reach 14.8 percent (51 million) of the total U.S. population—the highest share ever recorded in American history."
"The immigrant population will grow nearly four times faster than the native-born population, reaching 15.8 percent (57 million) of nation's population in 2030, 17.1 percent (65 million) in 2040 and 18.8 percent (78 million) in 2060."
"To place these numbers into historical context, as recently as 1990, immigrants were 7.9 percent (20 million) of the total U.S. population."
"The nation's total population will grow to 417 million by 2060—108 million more than in 2010. This increase is roughly equivalent to adding the combined populations of California, Texas, New York, Florida and Massachusetts to the country."
"The new projections indicate that immigrants who will arrive in the future, absent a change in immigration policy, plus their descendants will account for roughly three-fourths of future U.S. population increase."
MRCTV Reader,
The liberal media are terrified of the truth, especially when it leads to uncomfortable questions about their own leftist worldview.
MRCTV is the multimedia division of MRC featuring original content and aggregated videos of the news, people, and events conservatives care about.
MRCTV relies on the support of our loyal readers (and video viewers) to keep providing the news and commentary that matter to the American people, not just stories that prop up the liberal agenda.
Make a donation today. Just $15 a month would make a tremendous impact and enable us to keeping shining the light where the liberal media are afraid to tread.
— The MRCTV Team
DONATE
Connect
Sign up for our MRCTV newsletter to receive the latest news.
Sponsored Links