The left has no level low enough that they won't sink to. Almost seemingly out of left field (pun intended), accusations of racism, sexism, homophobia and any other label the left irresponsibly uses to slander people that disagree with them.
Rep. Rashida Tlaib (D-Mich.) may have inadvertently displayed her own racism on Wednesday.
The freshman congresswoman asserted that Rep. Mark Meadows' (R-N.C.) guest during the House Oversight Committee hearing involving President Donald Trump's former attorney Michael Cohen - Housing and Urban Development official and black woman Lynne Patton, was simply there as a "prop."
"Just to make a note Mr. Chairman," Tlaib condescendingly began, "just because someone has a person of color, a black person, working for them does not mean they aren't racist. And it is insensitive that some would even say, the fact that someone would use a prop, a black woman, in this chamber, in this committee…[sighs] is alone racist in itself."
Tlaib essentially called Patton a token black person of the Trump administration. Who's the racist?
One thing that should absolutely be noted — since smirking is apparently illegal in this country following the Covington debacle — is the look that Tlaib had on her face after she re-read her statement to Meadows and the rest of the chamber. Meadows was none-too-pleased with the assertion that the mere presence of a black person as his guest was a "racist" act.
Here's video of the exchange:
Take a look at this smirk, which can be found beginning around the 2:15 mark in the video above: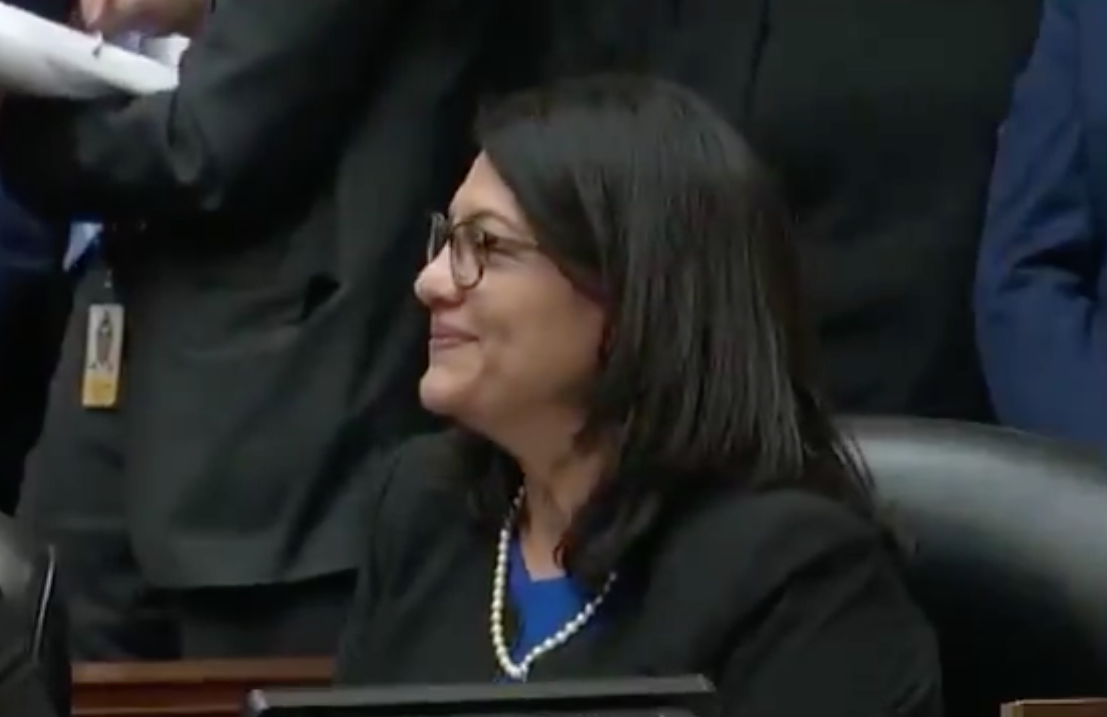 Race-baiting accomplished! Tlaib used the weak excuse that she didn't reference Meadows by name, but everyone knew who Tlaib was talking about. The congresswoman's words divisive claim came following a tweet by Patton questioning the validity of Cohen's "racist" claim towards Trump.
Here's Patton's initial tweet:
I am honored to be the special guest of @RepMarkMeadows today. I am here in support of @POTUS and in support of the truth, as Michael Cohen (knows that I know) it to be. And the truth is that it doesn't take you 15 years to call someone a racist. Unless they're not one. pic.twitter.com/jPxeYTbTYT

— 🇺🇸 Lynne Patton (@LynnePatton) February 27, 2019
In response to Tlaib's divisive commentary during the Cohen hearing, Patton released a statement on Instagram:
Today a race card was played.

But not by Congressman Mark Meadows.

But rather by those on the House Oversight Committee who sadly placed more credence on the word of a self-confessed convicted perjurer, than that of a highly-educated black woman who rose up the ranks of one of the most recognized global real-estate companies in the world, spoke before 25 million people at the Republican National Convention and now successfully oversees the largest HUD program office in the country.

That is not the resume of a prop.

It is, however, the resume of someone who remains completely unfazed by the criticism of others and laser focused.

Today was simply about one longtime employee disputing the testimony of another longtime employee who both know the President extremely well. Period.

Since the release of my viral video in May 2015, those who know me can confirm that my steadfast narrative about the Trump family has not changed.

The only one of us whose narrative has changed is the one facing significant jail time. Period.

My presence today was to remind Michael Cohen that honesty and integrity still matter.

I do not have an NDA.

I do not have a book deal.

What I DO have is the truth on my side.

And when you have that, nothing else matters.
That is how you respond firmly to something as ridiculous as Tlaib's claim, but with class. Tlaib may want to take notes.