It's a wonder Democratic Rep. Keith Ellison can tie his own shoes in the morning. In fact, I'm not entirely sure he does.
Ellison, a Muslim himself, tweeted Tuesday that the Supreme Court had just "ratified" President Donald Trump's "total an complete shutdown" of Muslims entering the United States.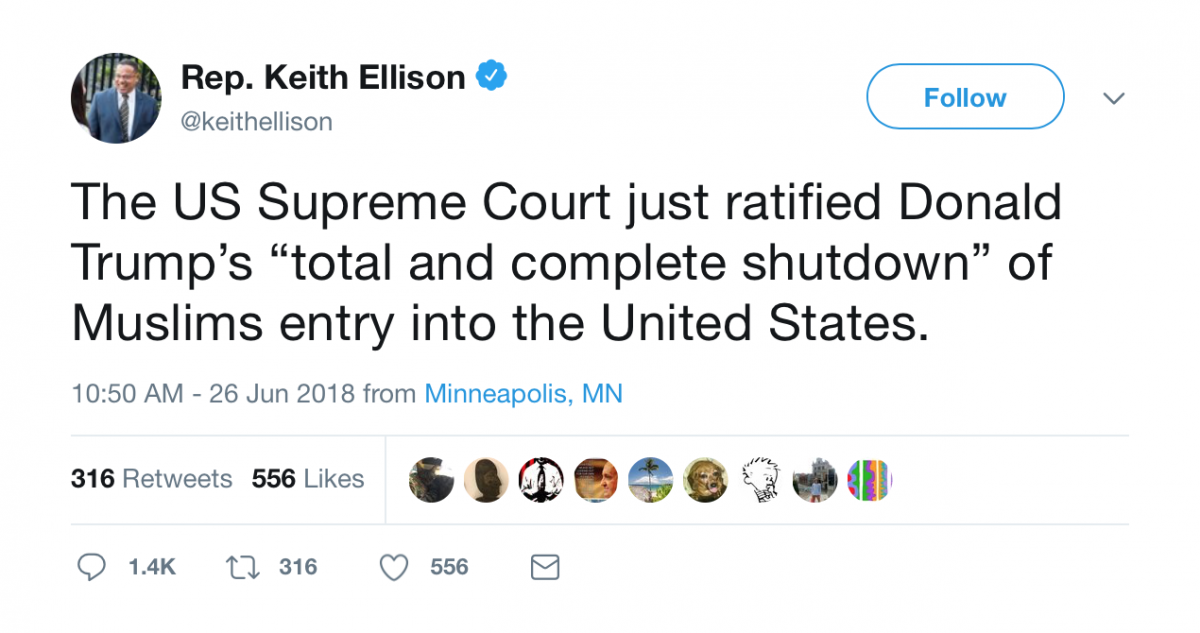 Which is so laughably false, it's a shock the Minnesota congressman's nose didn't automatically sprout a solid four feet when he hit "post." Trump never issued a ban on all Muslims entering the United States. That is a bold-faced lie.
The executive action upheld Tuesday by the Supreme Court, touted by liberals as a "travel ban," simply places various higher restrictions on persons entering the United States from seven countries: Iran, North Korea, Syria, Libya, Yemen, Somalia and Venezuela. The Trump State Department, like the Obama one before it, has determined visitors from these nations pose higher risks to U.S. national security.
Only five of those are Muslim-majority nations, comprising only about one-tenth of the 50-some Muslim-majority countries in the world. The "ban" in no way bars the vast majority of Muslims from visiting or immigrating to the United States. In fact, it doesn't even explicitly ban all visitors from most of these countries at all.
SCOTUS upheld Tuesday that the president does, in fact, have the constitutional authority to limit entry into the U.S., and can do so provided that the ban doesn't otherwise infringe on some constitutional protection. Which, they added, this one doesn't.
Perhaps, as an elected official charged with making laws that govern 320 million-plus people's lives, Rep. Ellison may want to brush up on his basic facts.
Then again, he's probably much more concerned with his narrative.
MRCTV Reader,
The liberal media are terrified of the truth, especially when it leads to uncomfortable questions about their own leftist worldview.
MRCTV is the multimedia division of MRC featuring original content and aggregated videos of the news, people, and events conservatives care about.
MRCTV relies on the support of our loyal readers (and video viewers) to keep providing the news and commentary that matter to the American people, not just stories that prop up the liberal agenda.
Make a donation today. Just $15 a month would make a tremendous impact and enable us to keeping shining the light where the liberal media are afraid to tread.
— The MRCTV Team
DONATE
Connect
Sign up for our MRCTV newsletter to receive the latest news.
Sponsored Links