University of Nevada, Reno Police Officer Antonio Gutierrez is in big trouble over a Halloween costume he wore mocking former 49er's quarterback Colin Kaepernick.
The costume came complete with a makeshift jersey, an afro, a troll nose, and a sign that read "will stand for food" as a clear jab at Kaepernick's unemployment.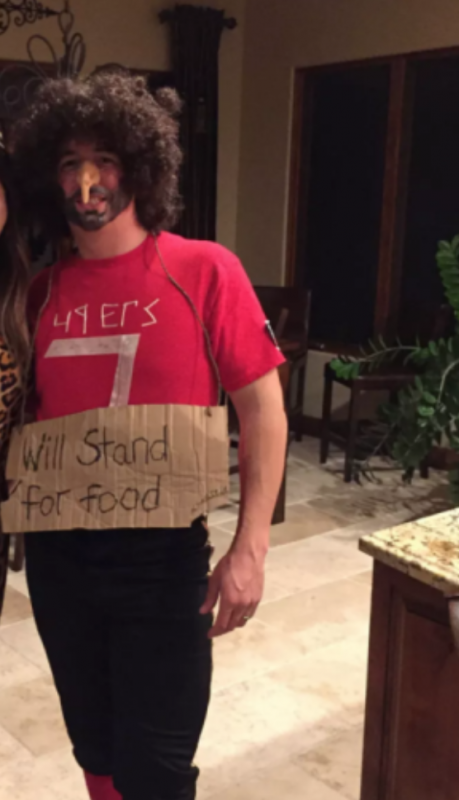 Upon seeing an image of Gutierrez online, a Twitter user, whose account has since been made private, forwarded the picture along with the message: 
"hey @unevadareno! one of your officers, Antonio Gutierrez, decided to go as a racist portrayal of #Kaep last night. this isn't ok!!"
UNR Police Chief Adam Garcia apologized Sunday, saying, "For those who have seen the Halloween costume of one of our officers apparently mocking a citizen who has chosen to take advantage of his constitutional right to protest, I offer my sincere apologies," in a statement. 
He continued, "Members of our profession are held to a higher standard and denigrating another—on or off duty—is insensitive for its lack of respect and lack understanding on how others may negatively view their actions and may be impacted."
UNR police spokeswoman Kerri Garcia also apologized, but said, "As insensitive and inappropriate as this is, we have no policy that would dictate any disciplinary action." 
It looks like Gutierrez's job is safe, but he will have to endure the social backlash of deciding to wear a costume that people take issue with. Then again, chances are the Twitterverse wouldn't be so outraged if a person decided to wear a costume mocking Ted Cruz. 
People have to be themselves 364 days of the year, so give them a break if they want to pretend to be someone else for just one night -- even if it's mocking -- and have a Happy Halloween.
Thank you for supporting MRCTV! As a tax-deductible, charitable organization, we rely on the support of our readers to keep us running! Keep MRCTV going with your gift here!
(Cover Photo: Twitter)