As a creature of habit, the car radio was always tuned to what was then the only NY Sports radio station, WFAN. Leaving right after telling my crew to chill for a few days, the radio fare on the drive home featured the station's afternoon stars, Mike Francesa and Chris Mad Dog Russo. These two were entertaining because of their sports knowledge and because listeners could tell these two really hated each other; there was always an undercurrent of tension on their show because an argument could spring up at any moment. But, on 9/12/01, the two were in total agreement as they launched a fact-deprived commentary blaming both Israel and American Jews for the attack on America the day before.
Russo opined (and Francesca agreed) that American Jews needed to prove their loyalty as Americans and choose between Israel, which Mike called "a failed experiment," and the U.S. The two bigots suggested Jews in America should take a loyalty oath to the country to prove that they were loyal to the US and not Israel.


How did WFAN react to this blatant anti-Semitism? Suspension? On-air apologies? After all, this is the station that six years later fired Don Imus, their number one moneymaker, for calling the Rutgers girls' basketball team "nappy-headed hos." Sadly, WFAN reacted by sweeping their comments under the rug, while their two cash cow bigots denied it ever happened. In fact, the primary reason that this post paraphrases the bigoted conversation rather than provide direct quotes is that WFAN station management claims that the tapes had not been saved and there was no way to know exactly what was said.

The Anti-Defamation League, which was flooded with calls sent a letter to the station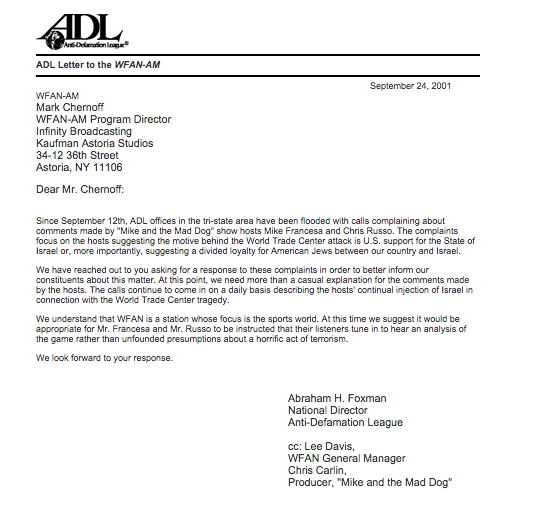 As of November 2009 the ADL never received a response from their letter.
Twelve days after the attack on 9/23, NY Post reporter Phil Mushnick wrote:
Days after the 9/11 attacks, Francesa, global affairs expert (it's a gift), launched two bigoted, backwoods and facts-depraving commentaries blaming both Israel and American Jews for America's peril at the hands of terrorists.

Francesa also said the Jews he knows are disloyal Americans in that they would go to war to defend Israel but not the United States.

In the wake of an attack on the U.S. by Islamic lunatics, Francesa even called upon American Jews to prove their virtue as Americans, to choose between Israel, which he called "a failed experiment," and the U.S.

As a third-generation American Jew, whose great-uncle was a WWI doughboy, and whose father was a WWII Naval Lt., then commander of the Staten Island chapter of the Jewish War Veterans, I was, shall we say, displeased by Francesa's determination that the time had come for me to swear allegiance to the United States.

The two sports talkers/bigots took to the airwaves to express their denial.
"Dumbest thing I ever heard [sic] in my life," Russo said.

"Not even a kernel of truth," Francesa said.

To which Mushnick responded in another column:
"… Francesa's claim that I fabricated quotes, then attributed them to him is a total lie because I never quoted either Francesa or Russo in that column. I couldn't quote them because WFAN claimed that it did not tape that particular segment.

But I did hear them - first-hand, not "second or third-hand" - then wrote a column critical of them for characterizing the 9/11 attacks as the fault of Israel, and by extension, American Jews……The fact that no tape was, in Francesa's words, "ever found" - he failed to mention WFAN's claim not to have taped the segment I wrote about - was used by Francesa, Monday, as proof that I fabricated a story about him."
Like Mushnick, I heard them with my own ears, stuck in traffic on the approach to the mid-town tunnel, the air still tasting like burnt rubber, the black curtain of smoke still blocking the horrible scene two miles south. On that day and for months afterward, the city was patrolled by American heroes in their fatigues and carrying rifles, a reminder that the world was drastically different.
In 2009 Mushnick added:
In WFAN's response, on behalf of Francesa, station boss Mark Chernoff denied that Francesa said any of that -- despite thousands, including WFAN staff, having heard what I'd heard. My challenge to produce those tapes was ignored.

If I wrote such malicious lies, why wasn't I sued? Why not a word of protest from Francesa and/or WFAN to me or to the publisher of The Post?
To this day, the two continue to deny what thousands of people heard with their own ears and complained about. Francesa on WFAN and his show is simulcast on the Fox1 sports network. Chris Russo's has his sports channel on Sirrus/XM where, ironically, on the tenth anniversary of 9/11, he broadcast a special about the horrors of the day.
If the two hosts had made those same comments about Islamic extremists, or Latinos, or African-Americans, they would have been fired before they finished their comments. But negative statements about Jews or Christians often get protected.

Like most Americans who suffered through those horrible days, the sounds, tastes and pictures of the ghastly attack on America are embedded in my memory. Most Americans reacted to that day by standing united against the hatred of al Qaeda. But, here in melting pot of New York City, one of the places where the 9/11 attacks occurred, two sportscasters chose not to stand united against Islamist terrorism. Instead, they chose to create more hatred and their hatred was protected, and even to this day, they deny it ever happened.