The media lost their collective mind Wednesday, claiming that Donald Trump had reportedly labeled all immigrants "animals" during a round table with local law enforcement leaders.
He hadn't, of course. He'd actually been referring to violent criminal aliens such as MS-12 gang members, who routinely rape, murder, kidnap and traffic people across America. But that pertinent detail didn't stop the media from the New York Times and the Associated Press to the major television networks from accusing Trump of insulting immigrants en masse.
Even after Twitter called out the press for their erroneous reports, some journalists, like CNBC's John Harwood, doubled down on their criticism, saying that Trump shouldn't have even referred to vicious gangbangers as "animals."
On that note, I'm just gonna leave this one here - it's CNN regular contributor Ana Navarro calling Trump an "animal" during the 2016 presidential campaign, and suggesting the now-president should just "drop out of the human race."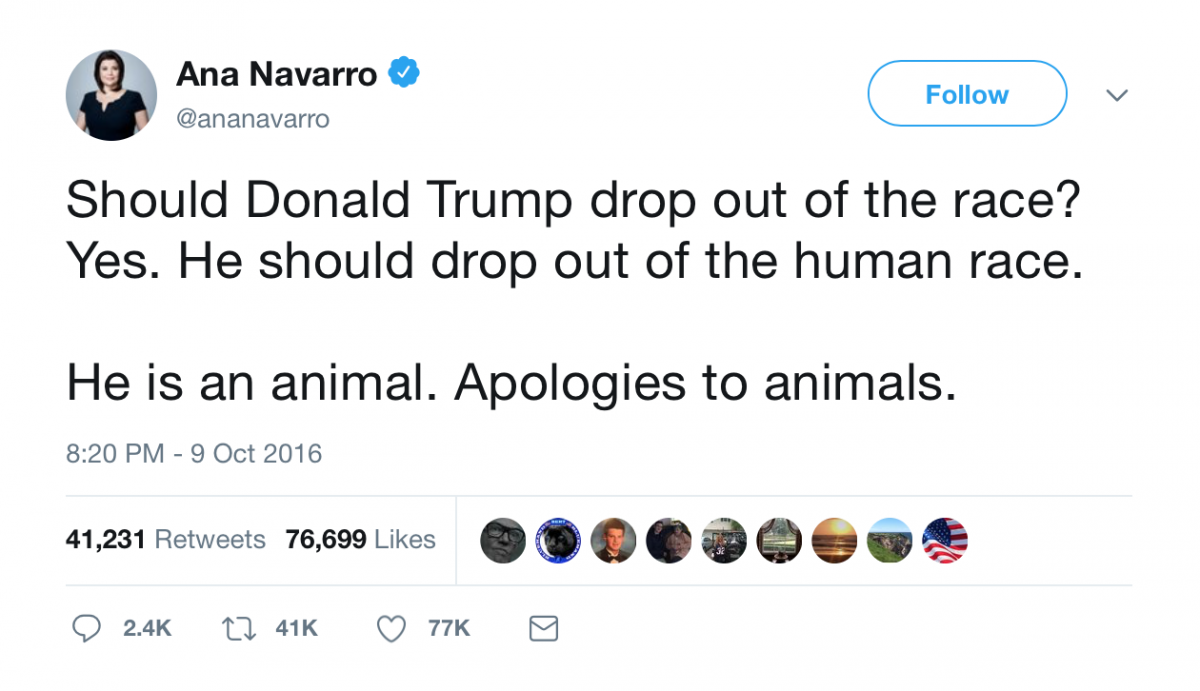 But, of course, no one on the left flipped out over that one.
So would you guys like to be the pot or the kettle, lefties? We'll let you decide.
MRCTV Reader,
The liberal media are terrified of the truth, especially when it leads to uncomfortable questions about their own leftist worldview.
MRCTV is the multimedia division of MRC featuring original content and aggregated videos of the news, people, and events conservatives care about.
MRCTV relies on the support of our loyal readers (and video viewers) to keep providing the news and commentary that matter to the American people, not just stories that prop up the liberal agenda.
Make a donation today. Just $15 a month would make a tremendous impact and enable us to keeping shining the light where the liberal media are afraid to tread.
— The MRCTV Team
DONATE
Connect
Sign up for our MRCTV newsletter to receive the latest news.
Sponsored Links