Seriously, Hillary?! You can't be this high, can you?
Thursday morning, failed Democratic presidential nominee Hillary Clinton thought it would be a great idea to have absolutely no self-awareness and retweet comments from House Speaker Nancy Pelosi's (D-Calif.) call to proceed with impeachment proceedings against President Donald Trump. Honestly, I can't make up what this woman wrote.
Just look: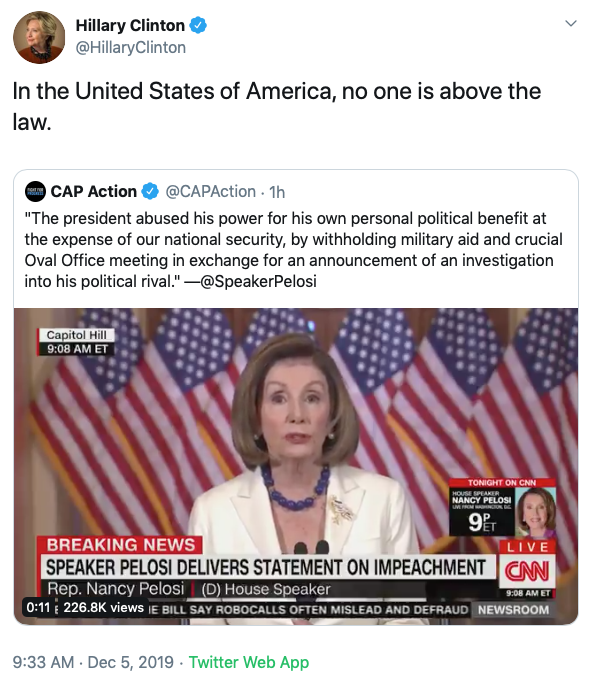 Hillary Clinton...just said...that no one...is above the law. Think about that for a minute.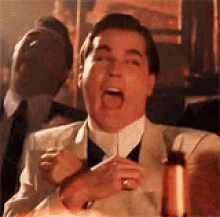 Right on cue, the "Twitterverse" provided more laughs with their responses to Clinton's statement: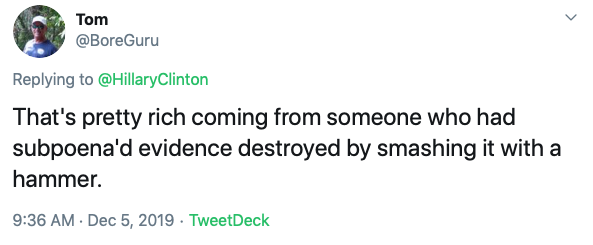 I really don't have to say much else. Clinton's apparent bout with foot-in-mouth disease does the job for us.
MRCTV Reader,
The liberal media are terrified of the truth, especially when it leads to uncomfortable questions about their own leftist worldview.
MRCTV is the multimedia division of MRC featuring original content and aggregated videos of the news, people, and events conservatives care about.
MRCTV relies on the support of our loyal readers (and video viewers) to keep providing the news and commentary that matter to the American people, not just stories that prop up the liberal agenda.
Make a donation today. Just $15 a month would make a tremendous impact and enable us to keeping shining the light where the liberal media are afraid to tread.
— The MRCTV Team
DONATE
Connect
Sign up for our MRCTV newsletter to receive the latest news.
Sponsored Links