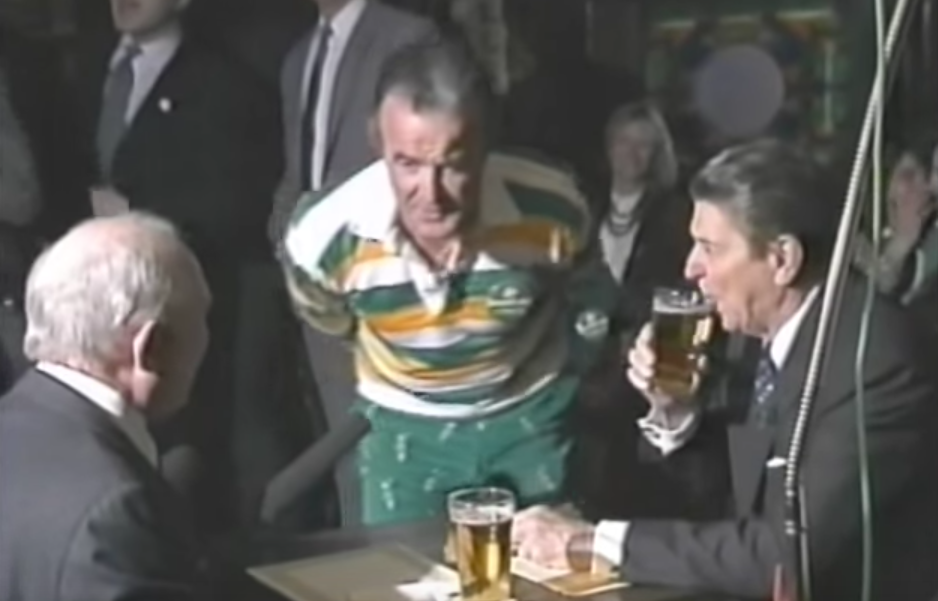 Former President Ronald Reagan stopped by an Irish pub in Alexandria, Va. on Saint Patrick's Day in 1988 to discuss his Irish upbringing. During his visit, he made some jokes at the expense of his heritage.
While speaking at Pat Troy's Ireland's Own, Reagan said, "You know, my father told me when I was that high that the Irish built the jails in this country and then filled him," Reagan said to laughter.
"You're thinking what I did, and for a long time, I was very chary about saying anything and I didn't know why he was so proud of that, 'till I got a ticket once from a Chicago cop. And when I heard that brogue, I found out what he meant. The police forces of America are largely Irish."
"But I just want you to know, I'm very leery about ethnic jokes now in my position. The only ones I can tell are Irish," Reagan continued.
An Indeed analysis of Community Survey Data from 2013-2015 reveals seven percent of the employed American population claim to have Irish ancestry. The Irish make up 11.5 percent of first-line supervisors of police and detectives.
Thank you for supporting MRCTV! As a tax-deductible, charitable organization, we rely on the support of our readers to keep us running! Keep MRCTV going with your gift here!
Sponsored Links