CNN Worldwide President Jeff Zucker issued a statement on Wednesday, blaming President Trump for the attempted bombing at CNN's New York headquarters.
"There is a total and complete lack of understanding at the White House about the seriousness of their continued attacks on the media," the statement reads. "The President, and especially the White House Press Secretary, should understand their words matter. Thus far, they have shown no comprehension of that."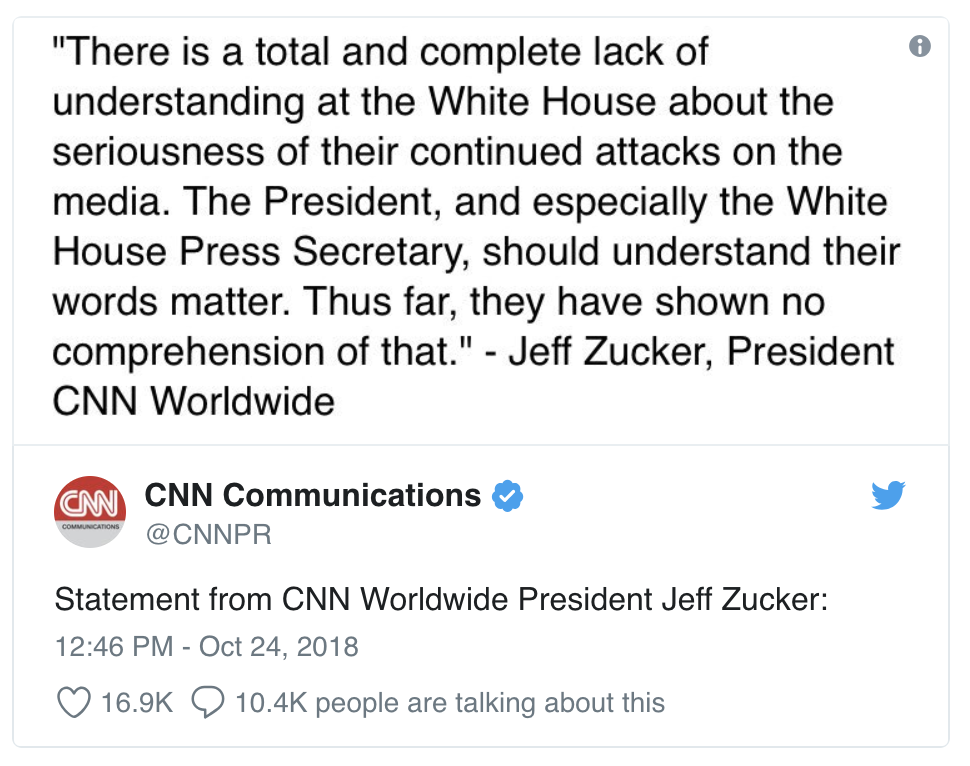 A handful of suspicious packages with explosive devices were sent to public figures, including one addressed to former CIA director John Brennan discovered in the mailroom of CNN's headquarters Time Warner Center.
The building was evacuated and the package was secured by NYPD's bomb squad.
Other packages were sent to former secretary of state Hillary Clinton, former President Obama, former U.S. attorney general Eric Holder, Rep. Debbie Wasserman Schultz (D-Fla.), and Rep. Maxine Waters (D-Calif.).
A large federal investigation is underway involving the FBI, the Department of Justice, the Department of Homeland Security, and U.S. Secret Service.
The media was quick to pin the blame on President Trump and the GOP, accusing the Trump administration of using heated and divisive rhetoric.
President Trump at the White House on Wednesday called for unity and condemned all acts of political violence.
"Acts of political violence of any kind have no place in the United States of America," said Trump.
Read here for updates on this developing story.