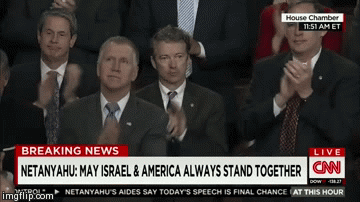 Before Prime Minister Benjamin Netanyahu's speech had ended, the internet was already meme-ing Sen. Rand Paul's (R-Ky.) "slow clap." Paul's critics called his clap lifeless, unenthused, and sedate – a sign of his anti-Israel stance, they said.
Paul was asked about National Review's criticism of the "slow clap" on Fox and Friends. Watch the clip for Paul's response.
"You have these gossipy websites who really demean themselves by putting stuff like that out," Paul said. "I gave the Prime Minister 50 standing ovations, I co-sponsored bringing him here…"
Paul continued: "We have gossipy websites looking at, you know, the metric of how fast you clap. I mean, I think they demean themselves by putting that out."
Netanyahu spoke about stopping Iran from obtaining a nuclear weapon and stemming the flow of arms throughout the Middle East, a subject that Paul has spoken about often.