If Communism and modern radical feminism had a baby, it would look something like Drexel University Professor of Politics and Global Studies George Ciccariello-Maher -- who'd probably be pretty happy with that genetics disaster.
The man who once tweeted "All I Want for Christmas is White Genocide" took to Twitter once again Monday morning to spew more division among people in the aftermath of the horrific Las Vegas shooting killed 59 people and left more than 500 others injured.
But instead of blaming now-deceased gunman Stephen Craig Paddock for the crime, Ciccariello-Maher is fingering "white supremacy patriarchy" for Sunday night's massacre.
Here's Ciccariello-Maher's Twitter tirade from Monday: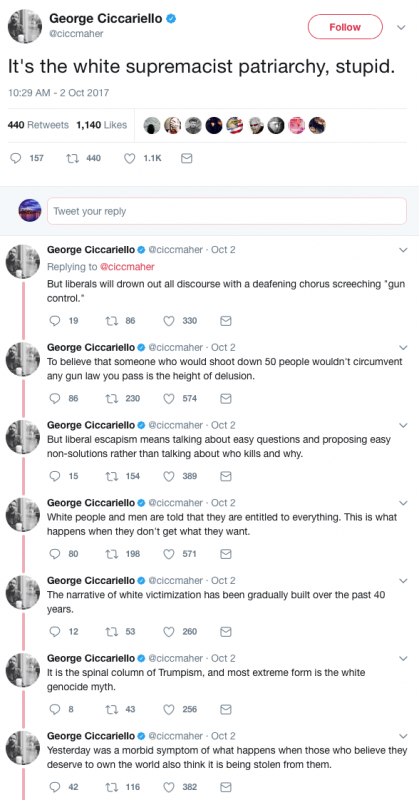 By the way, Ciccariello-Maher is white — and allegedly a man.
Judging from his self-righteous diatribe, Ciccariello-Maher purports that he disagrees with both the liberal anti-gun lobby and the right-of-center pro-Second Amendment lobby.
Of course, Ciccariello-Maher would put the blame on the Vegas tragedy squarely on white people, because this loon has a hate-filled narrative to promote. It's still not clear, to anyone that likes to wait for the facts to come out, why Paddock did what he did, but leave it to a radical Socialist/Communist to provide their "expert" opinion.
Not to be outdone, Ciccariello-Maher posted a tweet Tuesday comparing domestic abusers to police officers.
Here's the tweet: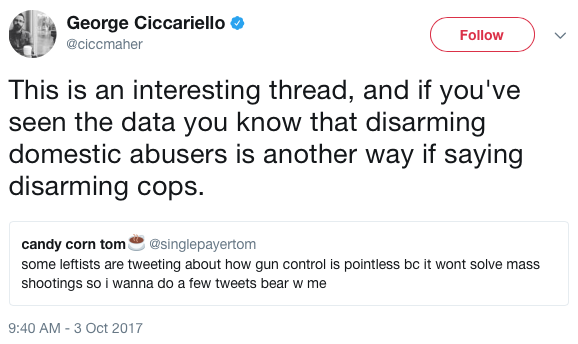 Ciccariello-Maher also called out media organizations that have exposed his hate.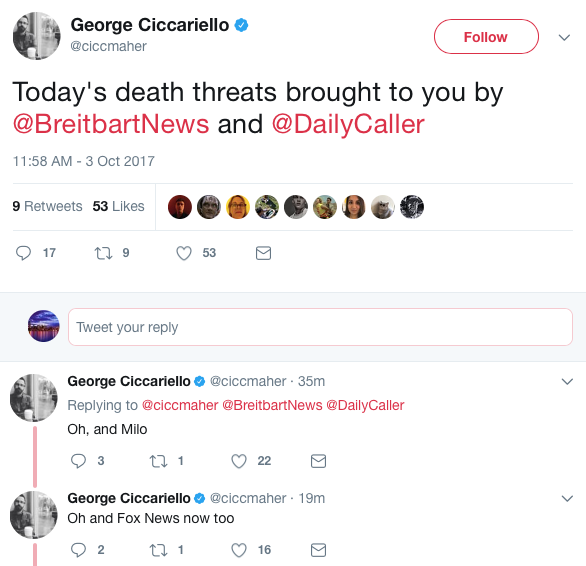 In one of his past tweets, Ciccariello-Maher said that was "trying not to vomit or yell about Mosul" when he was on a flight where a man gave up his first class seat for a "uniformed soldier." 
Reminder: this man is paid by Drexel University to help educate young, impressionable minds.
This is George. George hates America and its standing as a pro-Capitalism Constitutional Republic. George also promotes division through false narratives.
Don't be like George.