Social justice advocates, licensed social workers, an organizations are sharing a "racism scale" claiming that unless white people are willing to risk their safety and freedom for minorities, they're apparently racists.
The "racism scale" Weebly page, created by social justice activist and Represent Maryland PAC chapter leader Cristi Demnowicz, allegedly helps people "identify" their own biases and "help[s] others explore theirs."
The scale, which has five different iterations, asks readers where they "fall" on a scale of racism. In the most recent version, people can fall anywhere on a scale from "terrorism," "overt racism," "subconscious racism," "indifference," and "allyship" and "abolitionist":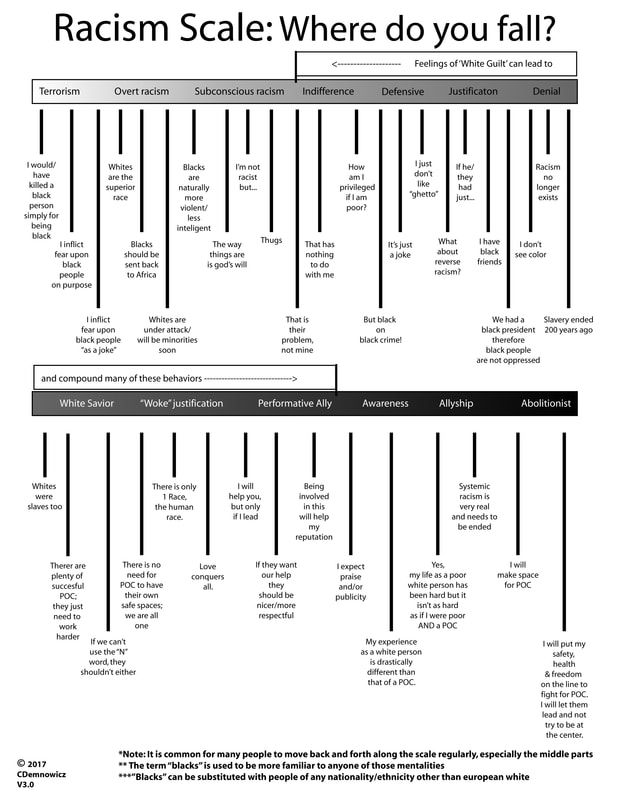 "Overt racism" is apparently believing that "whites are under attack/will be minorities soon."
"Subconscious racism" includes using words like "thugs."
"Denial," another form of racism, involves saying "I don't see color" or "Racism no longer exists." Even believing that "there is only 1 race, the human race" is suspect.
In each version of the chart, more forms of racism are added and adapted. Even in the simplest version, however, a form of "allyship" — later called being an "abolitionist" — is when people are willing to "put [their] safety, health & freedom on the line to fight for POC. I will let them lead and not try to be at the center."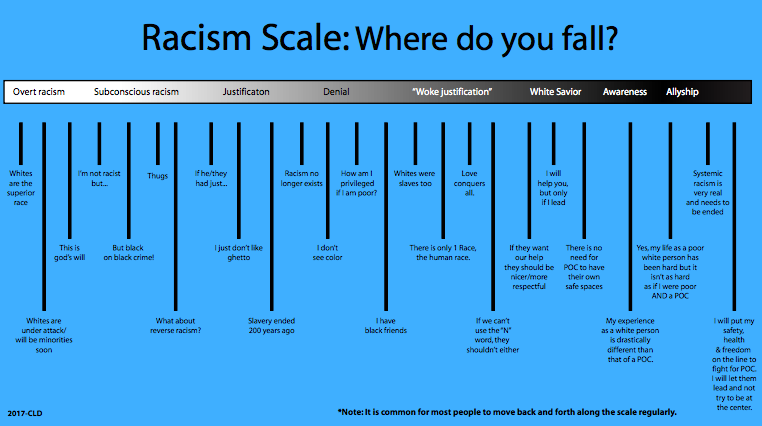 On the website, Demnowicz writes that her charts may be used by "educators, activists and social justice advocates" as long as they're only used "in a positive and constructive manner." When posted by Demnowicz's sister, it has since gone viral:
In a Medium piece, April Harter, a licensed clinical social worker at Harter Healing, LLC, used the racism scale to explain how to help people work through their "mental illness" of racism.
According to Harter, "Racism is complex in scope because it is both a mental illness and a value. In other words, it is a valued, sheltered, and protected mental illness. One might even say it has been incubated and allowed to fester throughout the course of American history."
She continued, "Mental illnesses are health conditions involving changes in thinking, emotion or behavior (or a combination of these). Racism meets those criteria."
She encourages people to read the racism scale to determine where they fall before determining if they should meet with a psychotherapist to discuss how to get over their "disease" of racism.
The scale was also adapted in a video by the Abused Deaf Women's Advocacy Services:
Thank you for supporting MRCTV! As a tax-deductible, charitable organization, we rely on the support of our readers to keep us running! Keep MRCTV going with your gift here!