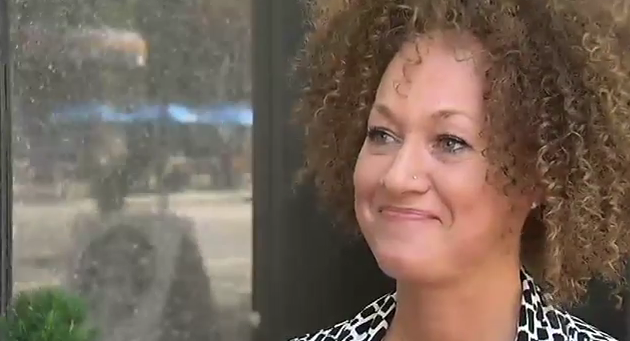 In her first public interview since the controversy surrounding her race hit headlines, Rachel Dolezal told the "Today" show's Matt Lauer she would make the same choices again and that her identification was due to "survival":
Lauer: "Would you make the same choices? Given all that's happened, and given the fall-out from it, but also the positive side of the discussion that has come out of it, would you make the same choices you've made, Rachel?"

Dolezal: "I would. I would."

Lauer: "And what do you want to come out of it? What discussion do you want to prompt?"

Dolezal: "Well, as much as this discussion has somewhat been at my expense, recently, in a very sort of viciously inhumane way - come out of the woodwork, and - the discussion's really about what it is to be human, and I hope that that really can drive at the core of definitions of race, ethnicity, culture, self-determination, personal agency, and ultimately, empowerment."

Lauer: "But when you say you would make the same choices... Wouldn't you go back and perhaps be a little more transparent about certain things in your life or correct some things that were said about you that you knew to be incorrect?"

Dolezal: "You know, there are probably a couple interviews I would do a little differently if circumstances, in retrospect, if I knew what I know now. But overall, you know, my life has been one of survival and the decisions that I have made along the way – including my identification – have been to survive and to, you know, carry forward in my journey and life continuum."
During the interview, Dolezal spoke to Lauer about her identification as a black woman—something she claims she has felt since she was five-years-old when she used to draw self-portraits with black and brown crayons.
Lauer bluntly asked Dolezal the question she had been avoiding, "Are you an African-American woman?"
Dolezal responded to Lauer by stating, "I identify as black," creating a nuance between someone with African-American heritage and an individual who is black.
Confronted with a photo from her childhood with blonde hair and white skin, Lauer asked Dolezal if the photo is of a Caucasian woman.
 "I would say that visibly she would be identified as white by people who see her," she replied, referencing the physical aspects of the photograph.
Dolezal took "exception" to being told that she has been deceiving people by identifying herself as black, since the "issue is more complex than that." She also said that she was not attempting "blackface," as critics have accused her of doing.
She explained she first started being identified by newspapers as "transracial," then "biracial," then "black," but she never felt the need to correct people since "it is more complex than being true or false in that particular instance."
Dolezal also answered questions about whether she has used her racial identification to her personal advantage.
Last week, the city of Spokane announced it has launched an ethics investigation into Dolezal as it is alleged she identified herself as an African-American woman on her application to serve as the citizen police ombudsman commission, a position she successfully attained.
In the past, Dolezal had identified Albert Wilkerson Jr., a black man, as her father. During the interview, Lauer asked Dolezal if she used him to "advance her resume."
Dolezal explained there is a difference between a "dad" and a "father": "Albert Wilkerson is my dad. Any man can be a father. Not every man can be a dad."
There was also a time when Dolezal also described herself as white. In a lawsuit against Howard University, Dolezal alleged she was discriminated against due to her "race, pregnancy, family responsibilities and gender."
Lauer questioned Dolezal about her lawsuit against Howard, as Dolezal then described herself as a white woman. She stated,
"The reasons for my full tuition scholarship being removed, and my teaching assistant position as well, were that other people needed opportunities and 'you probably have white relatives that can afford to help you with your tuition.' And I thought that was an injustice."
At the end of the interview, Dolezal said her sons support her and that they see her race as "human" and her culture as "black."