ESPN basketball analysts Jalen Rose and Jay Williams are so blinded by race that they can no longer clearly comprehend the sport's black history. Rose accused the U.S. Olympic men's basketball team of refusing to take an all-black squad to Tokyo. Williams mocked the Boston Celtics for hiring their "first" black head coach ever.
Both claims are absurd and completely false, but not surprising. Outkick blogger Bobby Burack said, "At ESPN, skin color is all that matters."
Rose is triggered that Kevin Love, a white forward for the Cleveland Cavaliers, was named to the otherwise all-black Olympic team.
"Kevin Love is on the team because of tokenism," Rose blurted out during Thursday's "Jalen and Jacoby" program on ESPN.:

"Don't be scared to make an all-black team representing the United States of America. I'm disappointed by that. Anybody that watched the league this year knows Kevin Love did not have a stellar season, was not the best player on his team, and did not necessarily deserve to be on this squad.
"I'm disappointed in Team U.S.A. for not having the courage to send an all-black team to the Olympics."
Uh, Jalen, the 2016 USA Olympic team was all black. Whoops!
Related: 'It's UNFAIR.' Brett Favre OBLITERATES Trans Olympians Competing With Women
Burack wrote: "Jalen Rose is distraught that a white player made the team. When the Left speaks of 'inclusion,' they really mean exclusion."
Williams' blunder was an attempt to indict Boston as a racist city, a favorite tactic among sports media. This week he congratulated Ime Udoka for becoming the Celtics' first black head coach. In truth, Udoka is Boston's sixth head coach of color – joining Bill Russell, K.C. Jones, M.L. Carr, Dock Rivers and Tom "Satch" Saunders. "Looking for racism daily must be challenging," Burack wrote.
Later, Williams took to social media again to report that he'd been hacked and he wasn't the author of the previous Tweet.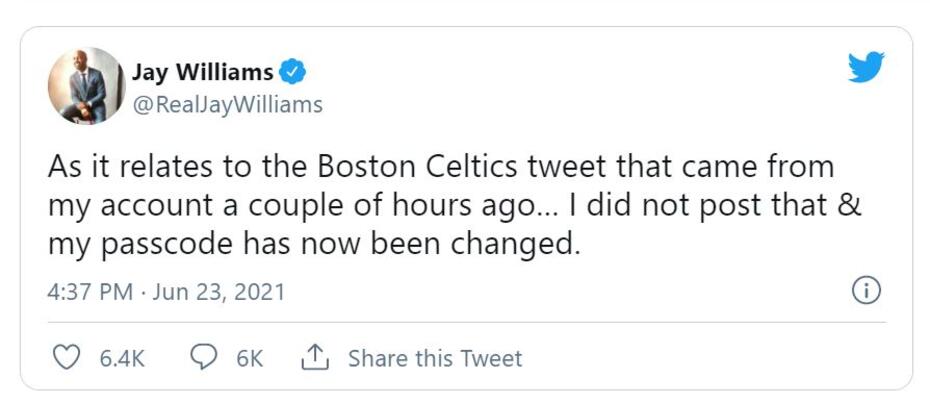 Not convinced of that, Burack asserted, "Of course Jay Williams would blame the hackers … Though there's a sucker born every minute, ESPN' Jay Williams prays there's more than just one … I hadn't seen such a poorly executed spin-job since Mark Cuban last tweeted."
Burack theorized that Williams' thought process went something like this.:
"I got a great idea: say you were hacked. You'll be off the hook. Now, think of something else to tie to race and hope ESPN promotes you for it."
How many "I got hacked" excuses does a person get, Burack asked. (It's the oldest dodge in the digital age!) Because Williams' error was a social media post, "he could not bring himself to admit it. He instead panicked and made it worse with an over-used, ineffective lie. Embarrassing."
Williams deleted his original Tweet.
Outkick's Alejandro Avila said there is no clear evidence of hacking, and he hopes Coach Udoka's acuity for basketball history surpasses that of Williams.