Ben Moser and Mary Lapkowicz's fourth grade teacher, Tracey Spogli, noticed how Ben was working hard on trying to include Mary, who has Down syndrome, in activities the kids were doing. Their teacher said that Ben would watch over her and "If she was looking like she wasn't having fun, he would go over and talk to her. He would pull her in to what ever activity they were doing. He just always watched out for her."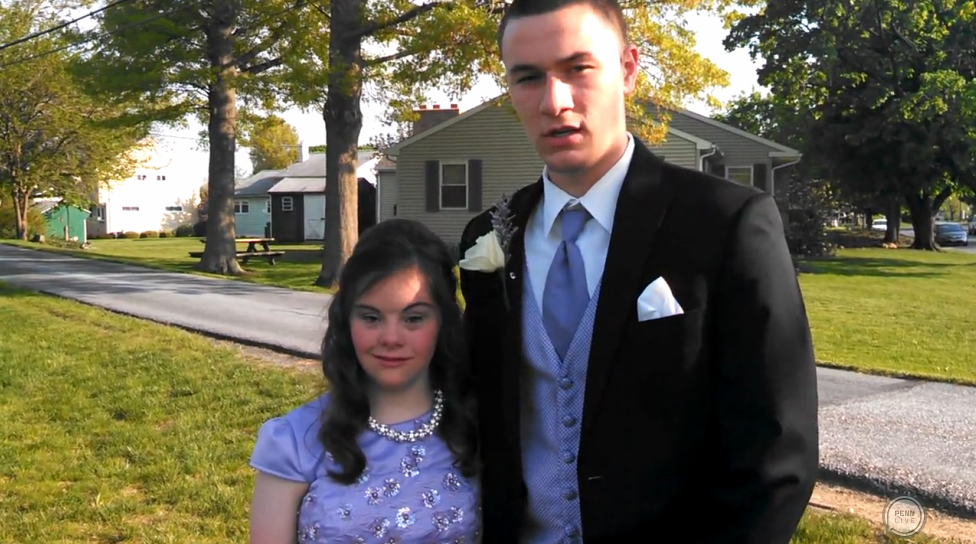 Ben said that he thought she was "really cool" and was "sweet and easy to get along with."
Mary said that "he was sweet and he was nice."
Ben went and saw his cousin's prom walk while in fourth grade and he told his mom that when he was old enough he was going to ask Mary to prom. However, in the sixth grade Mary moved to a different school where her father became a math teacher. When Mary hit high school, she was assisting her dad as the football team's equipment manager. Ben had gone into football at his high school and was playing quarterback.
When Mary's school and Ben's school played each other last year, these two crossed paths again and Ben remembered his promise that he made to take Mary to prom. Mary had no idea that Ben was actually going to keep his promise that he made so many years back.
"We got balloons and I wrote 'prom' on it," Ben said. "I presented her with the balloons and asked her to go to prom with me."

"I was surprised," Mary admitted, smiling. "I was going to go with some friends." 
Mary was excited to get to go to prom with Ben and on May 8th they went to prom together.
H/T Pennlive.com