Former personal attorney to President Trump, Michael Cohen, has re-registered as a Democrat, his lawyer announced on Thursday.
Cohen's attorney Lanny Davis in a tweet said the move was "another step in his journey" of "putting family and country first – distancing himself from the values of the current Admin," referring to Cohen's interview with ABC in July.
"Can't wait for his first interview!" Davis added. "#StayTuned."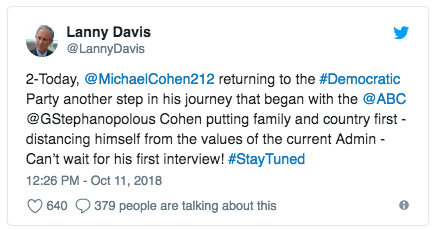 Cohen in an interview with ABC in July said that his family and country "have my first loyalty and always will."    
That was his first full interview since the FBI raided his office and homes in April.
Trump's former "fixer" plead guilty in August to eight federal charges, including two campaign-finance violations.
As Fox News reports,
After registering as a Republican in March 2017, Cohen served as the deputy finance chairman of the Republican National Committee' Finance Committee. He resigned amid the ongoing federal investigation into his business dealings.

Cohen pleaded guilty to eight federal charges after he admitted he violated campaign finance laws by arranging hush money payments to adult film star Stormy Daniels and former Playboy model Karen McDougal 'at the direction' of then-candidate Trump.

Cohen is set to be sentenced Dec. 12.
Cohen was a registered Democrat before joining the Republican Party in March 2017. 
He said that a "great man," President Trump, convinced him to "make the switch." 
Sponsored Links