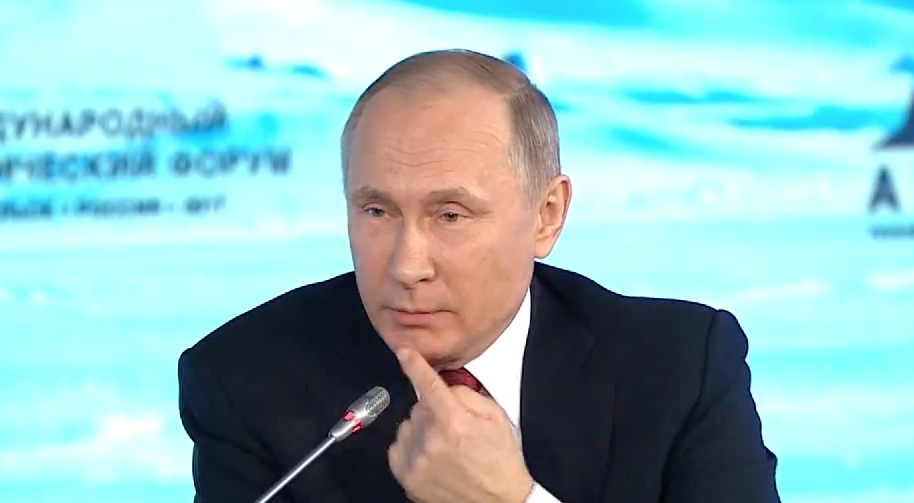 (Image: Screenshot/YouTube)
No matter what your opinion might be about Russian President Vladimir Putin, the former KGB operative sent an emphatic message to the rest of the world this week.
Speaking on a panel during the International Arctic Forum in Arkangelsk, Russia on Thursday, the Russian leader was asked directly about his country's alleged involvement in influencing last November's U.S. presidential election.
"You, and the Russian government, never tried to influence the outcome of the U.S. presidential election," a CNBC moderator on the panel asked Putin, "and there will be no evidence found?"
"Read my lips," Putin replied as he took out his earpiece, "No!"
There was audible laughter from the crowd as well as applause from a majority of the audience.
Putin wasn't bashful about telling the forum his opinions on why the American media, and U.S. government officials, have become obsessed with tying the Trump administration with Russian influence.
Putin continued:
All those things are fictional, illusory and provocations, lies. All these are used for domestic American political agendas. The anti-Russian card is played by different political forces inside the United States to trade on that and consolidate their positions inside.
Put aside whatever you believe about Putin as a person, and focus on what he said.
Does Putin have a point?