Boston Celtics legend and Basketball Hall of Famer Bill Russell posted a picture on Twitter of himself kneeling while wearing his Presidential Medal of Freedom.
The tweet, posted Monday afternoon, shows Russell throwing his support behind professional athletes that chose to take a knee before the playing of the National Anthem in response to President Donald Trump criticizing players who did not stand for the song.
The picture's caption reads: "Proud to take a knee, and to stand tall against social injustice," and includes the hashtags #takeaknee, #medaloffreedom, #NFL, #BillRussell, and #MSNBC.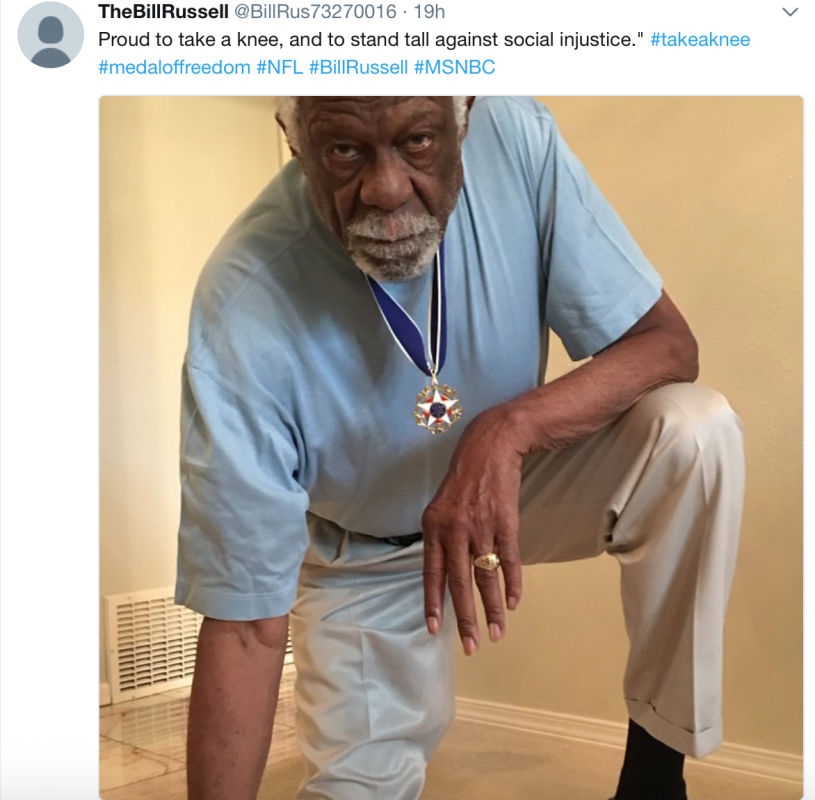 In the post, Russell is wearing the Presidential Medal of Freedom, the highest civilian award presented in the United States. Russell received the award in 2011.
At the time he said, "To be a true influence of positive change in the world often means that you have to stand up against injustice and fight through adversity," adding, "I am honored to be recognized alongside some of the great cultural icons of our time who have used their platforms to fight for civil rights and social justice, regardless of the risk, including my good friend Muhammad Ali to whom the award is dedicated. Our work has just begun."
As a former player with the Celtics, Russell, now 83, was an 11–time World Champion and five–time NBA MVP.