A sociology professor at Trinity College in Hartford, Connecticut, is facing a firestorm of criticism after declaring that "whiteness is terrorism" in a tweet on Easter Sunday.
According to the Hartford Courant, professor Johnny Eric Williams tweeted on Sunday, "Whiteness is terrorism," followed by the tweet, "All self-identified white people (no exceptions) are invested in and collude with systemic white racism/white supremacy."
His Twitter profile is now marked private and tweets "protected." His description reads, "#twittersociologist specializing in the fields of social movements, political sociology, sociology of culture, science, religion, 'race' and white supremacy."
Williams also wrote a disturbing post on Facebook earlier this month, saying that, ''White' kneegrows really need a lot of therapy and a good 'ol a** kicking."
When asked whether he was referring to black conservative commentator Candace Owens, Williams replied, "I'm referring to her other and less brazen but more insidious dangerous "white" kneegrows like Barry and Michelle Obama and many other white kneegrows you encounter daily."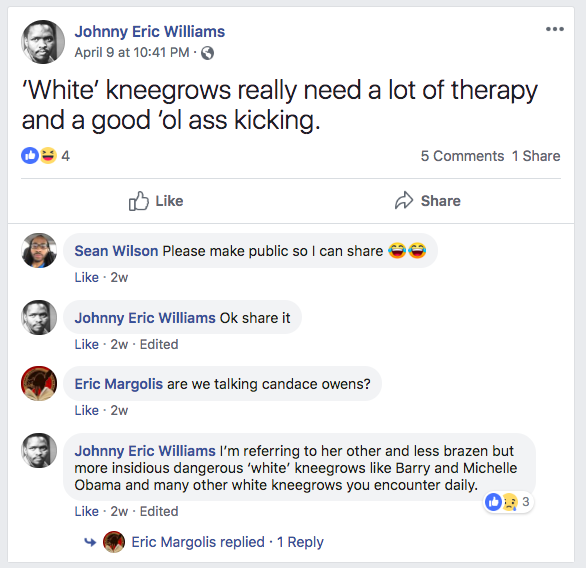 Alumni of Trinity College have condemned the remarks in a group on Facebook, calling it "hate speech" and "a cycle of vicious language."
Williams has defended his remarks, telling The Courant in an interview, "This stuff is not for the faint-hearted."
"Whiteness breeds terrorism, the exploitation of other people's bodies and minds for profit," he said. "It's academic freedom. That's the role of a professor to try to help students see their complicity and collusion with white racism."
This is not the first time Williams has faced backlash for making controversial remarks.
In 2017, the tenured professor had to take a leave of absence because of his use of racially charged language in a pair of posts on Facebook less than a week after the Congressional baseball game mass shooting in Virginia.
The posts seemed to justify if not encourage violence against whites by the "racially oppressed." 
As The Courant reports,
The controversial pair of Facebook posts by Williams in 2017 included an inflammatory and profane hashtag — 'Let Them [expletive] Die' — that was widely shared on social and conservative media, leading to the threats against Williams and calls for him to be fired.

Trinity President Joanne Berger-Sweeney reported that the college lost $200,000 in donations due to the controversy. Sixteen incoming students also withdrew their enrollment.

At the time, Berger-Sweeney said she supported Williams' right to express his views, but found his words personally offensive.
Trinity College responded to the latest controversial remarks with the following statement:
"Yes, we know about the tweets by Professor Williams, which were made in the context of his academic scholarship on issues of race," a spokeswoman said. "A discussion of the tweets followed on a closed Facebook group of some Trinity alumni. In that thread, an alumnus reports having reached out to ask Professor Williams about the tweets. Professor Williams then shared a broader scholarly context for the statements, as well as some relevant publications on the concept of whiteness. The context provided by Professor Williams speaks for itself."
Whether the university will investigate as it had in 2017 remains to be seen, as several alumni have called for disciplinary action or his resignation, though by its response, it looks as though the issue has been settled, at least on their end.