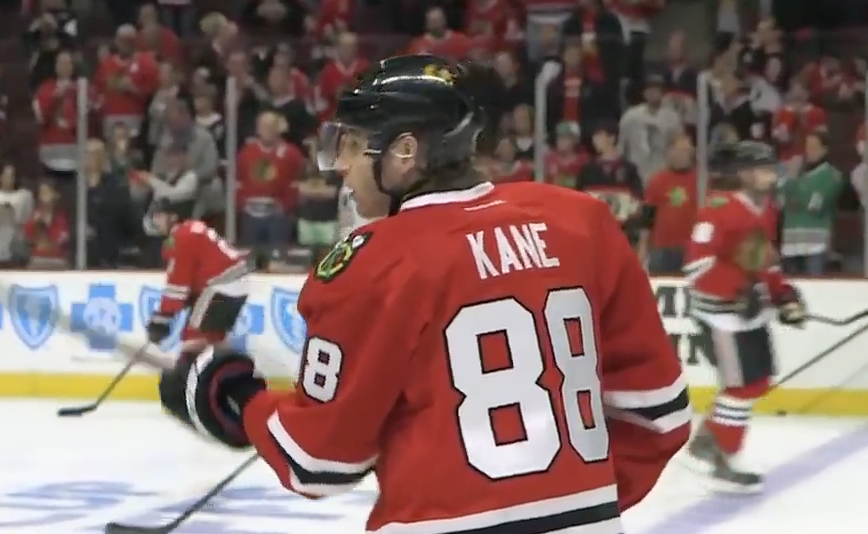 (Image: Screenshot/YouTube)
It's something that doesn't get reported on enough, and it's also something that more people should do.
National Hockey League (NHL) superstar and Chicago Blackhawks right winger Patrick Kane was sitting in first class on an American Airlines flight when he noticed a member of our military sitting in coach.
Kane decided to offer the man his first class seat in exchange for his coach seat. Later in the flight, the man offered his thanks to Kane.
Teri Truss, a flight attendant for American, took to Twitter to share a picture with Kane and praise for the three-time Stanley Cup winner, calling him a "class act."
Here's the tweet:
A lesson could be learned from this.
Just because the U.S. isn't currently involved in a major war, member of the military still have to travel to wherever they're needed in order for people to continue living the privileged lives that they constantly complain about.
Military members rarely, if ever, ask for anything from the general public, so it might behoove people to show a little appreciation every now and then.
H/T: Fox 32 - Chicago
MRCTV Reader,
The liberal media are terrified of the truth, especially when it leads to uncomfortable questions about their own leftist worldview.
MRCTV is the multimedia division of MRC featuring original content and aggregated videos of the news, people, and events conservatives care about.
MRCTV relies on the support of our loyal readers (and video viewers) to keep providing the news and commentary that matter to the American people, not just stories that prop up the liberal agenda.
Make a donation today. Just $15 a month would make a tremendous impact and enable us to keeping shining the light where the liberal media are afraid to tread.
— The MRCTV Team
DONATE
Connect
Sign up for our MRCTV newsletter to receive the latest news.
Sponsored Links