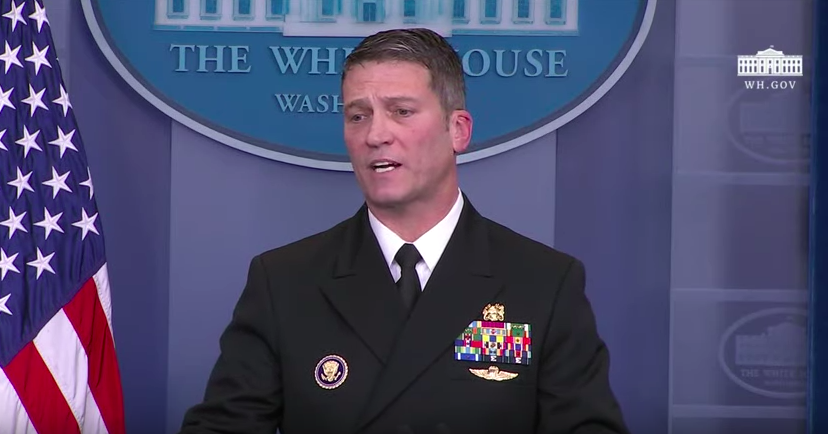 Image via Screenshot
Amid questions about his mental and physical health, President Trump's physical examination results were revealed during Tuesday's White House press briefing.
Despite reports slamming Trump for his eating habits, such as his love of fast food like McDonald's and candy like Starbursts, presidential physician Dr. Ronny Jackson said that his "overall health is excellent" and there was "not a lot to go on here as far as making him healthier in the year coming."
Jackson went over a summary of the results and all of the President's vitals, everything within normal range with the exception of his cholesterol.
He said that Trump will be making changes to his diet and exercise and aims to lose between 10 and 15 pounds over the next year. He is currently 71 years old and 239 pounds. He will also take a higher dose of medication to lower his cholesterol.
Other than cholesterol medication, Trump takes aspirin for cardiac health, medication for the prevention of male pattern hair loss, and a multivitamin for health maintenance, Jackson said.
Aside from that, there were "no other significant findings."
He is "very healthy and will remain so during the remainder of his presidency," Jackson told the press.
Jackson said that what stood out to him the most was Trump's cardiac health, which he said was "excellent" likely due to "a lifetime of abstinence" from tobacco and alcohol.
As to questions surrounding Trump's mental health, Dr. Jackson said that he has "no reason whatsoever to think that the President has any issues with his thought process."
The physician said that he was hesitant to conduct any test on Trump's cognitive ability because he "didn't feel that it was clinically indicated" and had "no concerns" about it but the President had urged him to do so.
Jackson said Trump "did exceedingly well on it" and that he knows the President to be "very sharp, very articulate when he speaks to me."
"He says what he's got to say and he speaks his mind," said Jackson.   
"I've spent almost every day with the President since he got into office and I see him every day. Sometimes three times a day," he explained. "I've got to know him pretty well and I had no concerns about his cognitive ability."
The summary of President Trump's physical examination will be made available to the press after the briefing.
Dr. Jackson served as former President Barack Obama and George W. Bush's physician.
Thank you for supporting MRCTV! As a tax-deductible, charitable organization, we rely on the support of our readers to keep us running! Keep MRCTV going with your gift here!