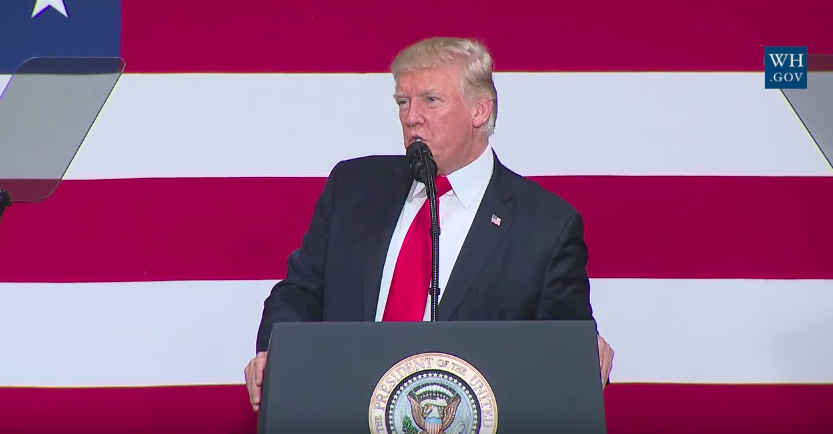 Image via Twitter
President Trump in a speech in Springfield, Mo., on Wednesday kicked off his administration's push for tax reform.
He called on members of Congress to come together and work to fix "our self-destructive tax code," saying that the future of America "is counting on it."  
"We're here today to launch our plans to bring back … by reducing the crushing tax burden on our companies and on our workers," he began.
"Our self-destructive tax code cost Americans millions and millions of jobs, trillions of dollars, and billions of hours spent on compliance and paperwork… That is why the foundation of our job creation agenda is to fundamentally reform our tax code for the first time in more than 30 years."
The President said he wants to work with all members of Congress on a plan that is "pro-growth, pro-jobs, pro-worker, and pro-American."
"I am fully committed to working with Congress to get this job done," said Trump. "And I don't want to be disappointed by Congress, do you understand me?"
"I think Congress is going to make a comeback," he went on. "I hope so. Tell you what, the United States is counting on it."
He laid out his plan in four parts: creating a tax code that is "simple, fair, and easy to understand"; making the tax code competitive by bringing the business tax rate down to 15%, which he argued would allow for job creation, higher wages, and more products to be made in America; providing tax relief for middle class families; and incentivizing large companies to bring back money parked overseas by making the process "less punitive" and "less bureaucratic."
Trump later asked, "What could possibly be more bipartisan than allowing families to keep more of what they earn?"
"So let's put – or at least try to put – the partisan posturing behind us, and come together as Americans to create the 21st century tax code that our people deserve," he said, drawing his speech to a close.
President Trump has publicly criticized many members of Congress on a number of issues, most notably Senate Majority Leader Mitch McConnell after failing to repeal the Affordable Care Act. 
If Congress fails to pass tax reform, Americans can expect to hear Trump sound off on who he finds responsible.  
Thank you for supporting MRCTV! As a tax-deductible, charitable organization, we rely on the support of our readers to keep us running! Keep MRCTV going with your gift here!