In a dramatic turn of events, President Trump has reportedly accepted the resignation of United Nations (UN) Ambassador Nikki Haley on Tuesday morning.
National reporter for Axios, Jonathan Swan, broke the story Tuesday morning, saying that "Haley discussed her resignation with Trump last week when she visited him at the White House." 
Both Trump and White House Press Secretary Sarah Huckabee Sanders tweeted Tuesday morning that Trump will have with a meeting with Haley open to the press around 10:30 am in the Oval Office: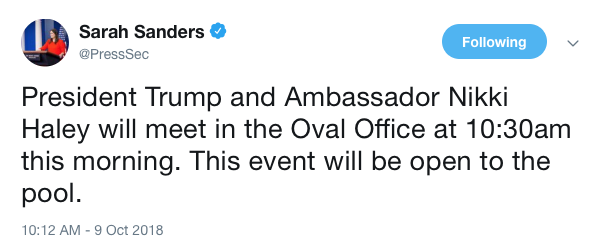 Haley's resignation comes amid allegations that she took "seven private flights...that were paid for by South Carolina business executives," according to the Citizens for Responsibility and Ethics in Washington (CREW).
According to The Hill:
The seven free flights were between New York, Washington, D.C., and three cities in the former governor's home state of South Carolina.

Federal ethics regulations ban employees from soliciting or accepting gifts because of their official positions, and Haley asserted on her financial disclosure report that she was personal friends with the three South Carolina businessmen involved. 
Stay tuned to MRCTV in the event of further developments on this story.