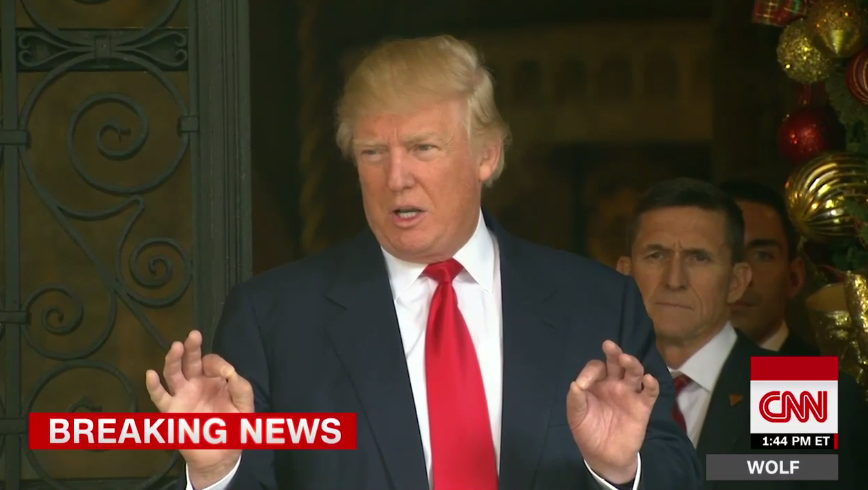 (Image via Screenshot)
President-elect Donald Trump on Wednesday condemned the attack on a Christmas market in Berlin earlier this week as an "attack on humanity."
"It's an attack on humanity -- that's what it is," said Trump, speaking to reporters outside his Mar-a-Lago, Fla., residence. "It's an attack on humanity and it's got to be stopped."
One reporter asked Trump if Monday's act of terrorism in Berlin has caused him to rethink his proposed ban on all Muslims entering the U.S.
The President-elect replied that the attack has proven his stance "100 percent correct."
"You've known my plans all along and I've been proven to be right, 100 percent correct," said Trump. "What's happening is disgraceful."
Following the news of the attack on a Christmas market in Berlin, the assassination of the Russian ambassador to Turkey, and a shooting at a Zurich Mosque in Switzerland – all in the same day – Trump tweeted that things are "only getting worse."
"The civilized world must change [its] thinking!" he wrote.
A new suspect is being sought in the Berlin attack, the German interior minister confirmed.
German authorities are searching for Anis Amri, a 23-year-old Tunisian man who was reportedly under surveillance for months for his alleged ties to ISIS.
Police are offering a reward of €100,000 ($104,300) for information leading to his arrest. 
Twelve people were killed during the Monday night rampage, 48 injured.