President Donald Trump, VP Mike Pence, and the president's eldest son are calling for calm and condemning any destruction and violence by protestors at the Capitol.
"I know you're hurt, we had an election that was stolen from us," Trump said in a Twitter video that was immediately flagged by the social media company. "We can't play into the hands of these people, we have to have peace."
"Go home and go home in peace."
Earlier Trump had called for protestors outside the Capitol to refrain from violence.
"I am asking for everyone at the U.S. Capitol to remain peaceful. No violence! Remember, WE are the Party of Law & Order – respect the Law and our great men and women in Blue," President Trump tweeted Wednesday afternoon.
January 6, 2021

"This is wrong and not who we are," Donald Trump Jr. posted to Twitter.
"Be peaceful and use your 1st Amendment rights, but don't start acting like the other side. We have a country to save and this doesn't help anyone."

Vice President Mike Pence also took to social media, "The violence and destruction taking place at the US Capitol Must Stop and it Must Stop Now. Anyone involved must respect Law Enforcement officers and immediately leave the building."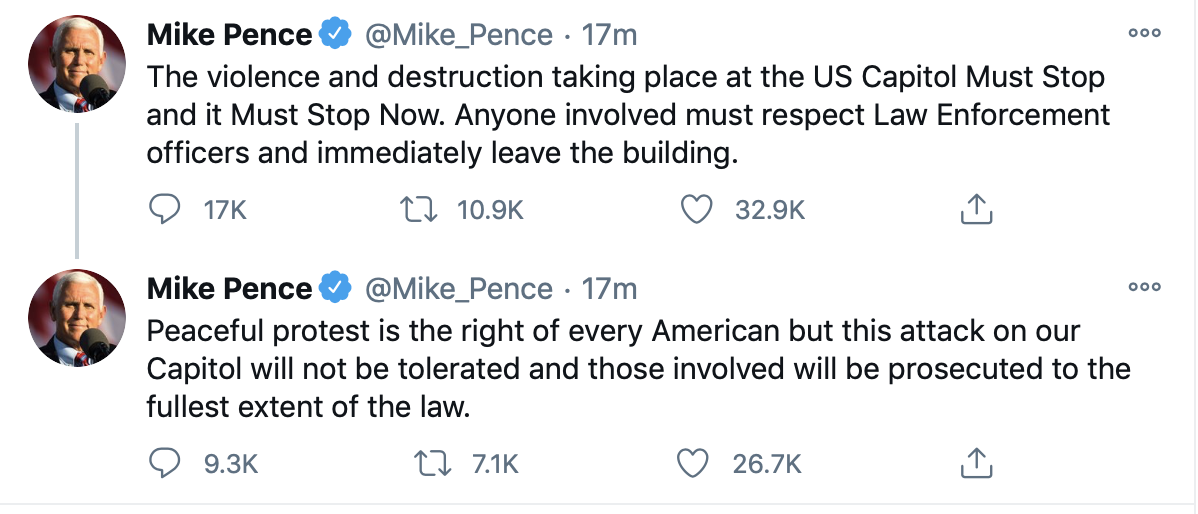 Protestors gathered outside the Capitol building Wednesday afternoon as lawmakers were beginning the process of certification of the Electoral College votes in the 2020 presidential election.