(Headline Image: Portland Police Bureau)
According to reports, a Portland member of the far-left group Antifa was killed in an apparent hit and run early on Saturday as he was leaving a popular activist hang out for leftists.
Sean Kealiher, a 23-year-old Portland resident, died at a local hospital after being struck by an SUV shortly after leaving Cider Riot, a favorite local hangout for activists. Police are still searching for the suspect who drove the SUV in the incident, which was reportedly shot at following the collision with Kealiher. After the reported shots were fired at the SUV in question, the vehicle crashed into a nearby building, which some reports say was the headquarters for the Oregon Democratic Party. 
As The Guardian noted, a Twitter account attributed to the local Rose City Antifa tweeted that the incident "was not related to fascist activity."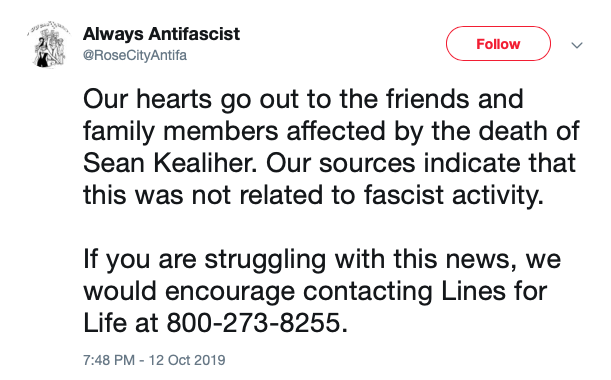 The Oregonian reported that while "homicide detectives are investigating the case," there have been no arrests and there are "no details" about a possible motive in the case.
Unlike other outlets, we at MRCTV will wait for the facts of the case to come out before speculating as to a possible motive.
Stay tuned to MRCTV for updates on this story.
H/T: Timcast