Michigan voters aren't interested in House lawmakers moving forward in their desire to impeach President Donald Trump, according to a Glengariff Group Poll.
The poll surveyed "600 likely Michigan voters" and found 53 percent were opposed to the U.S. House pushing for impeachment, while only 40 percent support starting the impeachment process.
As The Detroit News reports:
"About 41 percent of respondents "strongly" oppose impeachment, while 27 percent "strongly" support it. Opposition to impeachment hearings was particularly high among independent voters at 59 percent."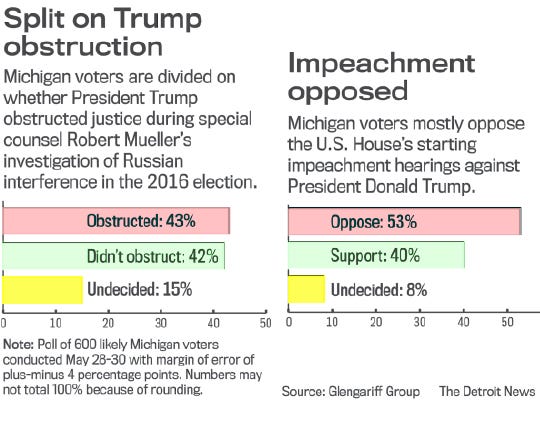 "Democrats are increasingly agitated towards impeachment. They're up to 70 percent of Democrats now believe impeachment hearings should begin, but the difficulty in that argument is independent voters are not there," Richard Czuba, who conducted the poll for the Lansing-based Glengariff Group told The Detroit News. 
"Democrats can't do it just with Democratic voters behind them," Czuba continued. "They need the independent voters behind them and, as Speaker Pelosi has pointed out, they have to make that case, but those voters are not there yet."
Czuba added that he believed Pelosi hasn't backed the push for impeachment because she has known about these numbers.
The poll shows that while Democrats believe Trump obstructed justice — in relation to Robert Mueller's investigation — and Republicans believe the president did not obstruct justice, independents are torn on the topic. 
The poll also notes 36 percent of independent voters said they are better off since Trump came into office. 43 percent said they are the same while 20 percent believe they are worse off. 
MRCTV Reader,
The liberal media are terrified of the truth, especially when it leads to uncomfortable questions about their own leftist worldview.
MRCTV is the multimedia division of MRC featuring original content and aggregated videos of the news, people, and events conservatives care about.
MRCTV relies on the support of our loyal readers (and video viewers) to keep providing the news and commentary that matter to the American people, not just stories that prop up the liberal agenda.
Make a donation today. Just $15 a month would make a tremendous impact and enable us to keeping shining the light where the liberal media are afraid to tread.
— The MRCTV Team
DONATE
Connect
Sign up for our MRCTV newsletter to receive the latest news.
Sponsored Links