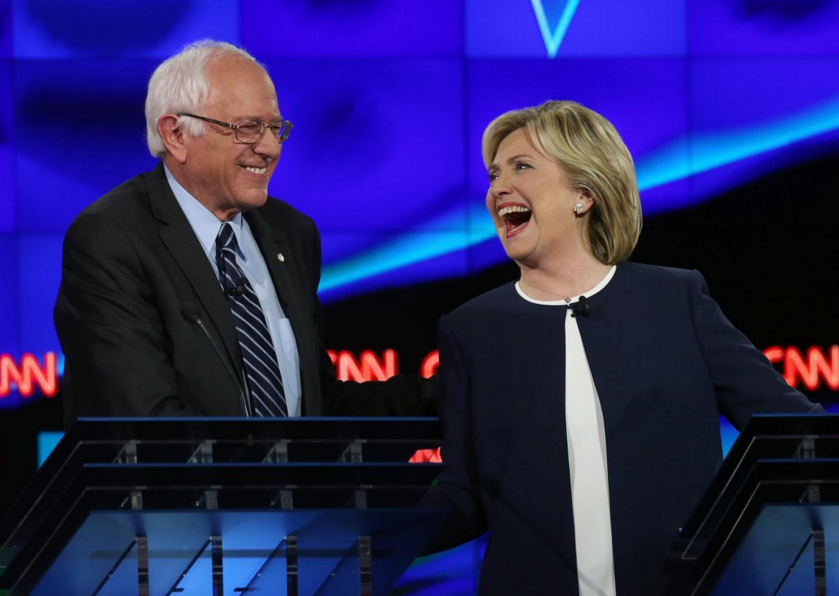 A new poll finds Hillary Clinton is viewed as the most dishonest and most untrustworthy presidential candidate compared to the other leading presidential candidates.
The Economist/YouGov poll asked 2,000 American adults their opinions on the honesty trustworthiness of seven presidential candidates: Jeb Bush, Ben Carson, Hillary Clinton, Ted Cruz, Marco Rubio, Bernie Sanders, and Donald Trump.
Clinton received the highest percentage of individuals who believe she is dishonest and untrustworthy.
The poll found 53 percent of respondents view Clinton as dishonest and untrustworthy compared to 31 percent who view her as trustworthy and honest.
While 31 percent of all Americans see Clinton as trustworthy and honest, 59 percent of Democrats and 49 percent of liberals responded they think Clinton is trustworthy.
At the same time, 24 percent of Democrats and 35 percent of liberals claimed Clinton is dishonest and untrustworthy.
Donald Trump was the only other presidential candidate whose untrustworthiness and dishonesty score was above 50 percent (at 51 percent). More respondents found Trump as trustworthy compared to Clinton (33 percent for Trump compared to 31 percent for Clinton).
Bernie Sanders was seen as the most honest and trustworthy presidential candidate, with 41 percent of respondents claiming he is honest and trustworthy.
Only 27 percent of respondents described Sanders as being dishonest and untrustworthy.
Clinton, however, remains the Democratic frontrunner.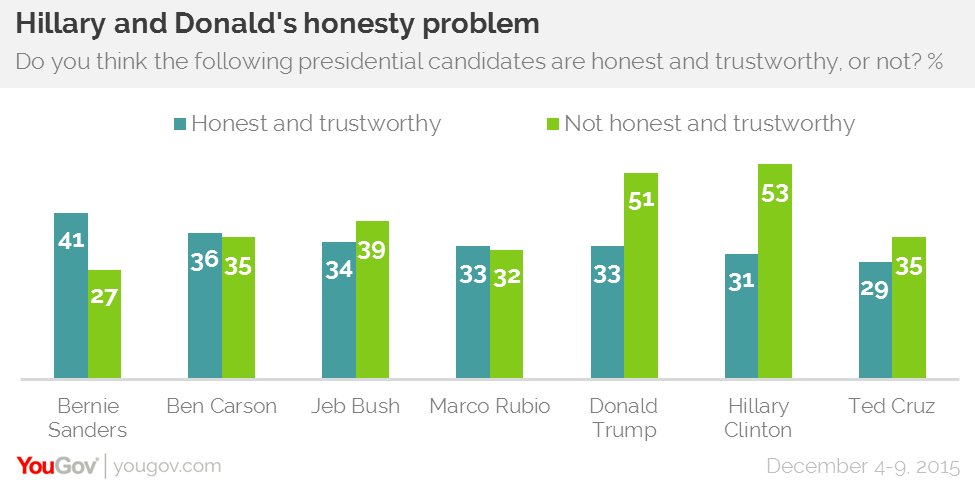 (Image source: YouGov) 
The Economist/YouGov poll was conducted between Dec. 4-9 using Web-based interviews. It has a margin of error of ±3% (adjusting for weighting).
MRCTV Reader,
The liberal media are terrified of the truth, especially when it leads to uncomfortable questions about their own leftist worldview.
MRCTV is the multimedia division of MRC featuring original content and aggregated videos of the news, people, and events conservatives care about.
MRCTV relies on the support of our loyal readers (and video viewers) to keep providing the news and commentary that matter to the American people, not just stories that prop up the liberal agenda.
Make a donation today. Just $15 a month would make a tremendous impact and enable us to keeping shining the light where the liberal media are afraid to tread.
— The MRCTV Team
DONATE
Connect
Sign up for our MRCTV newsletter to receive the latest news.
Sponsored Links