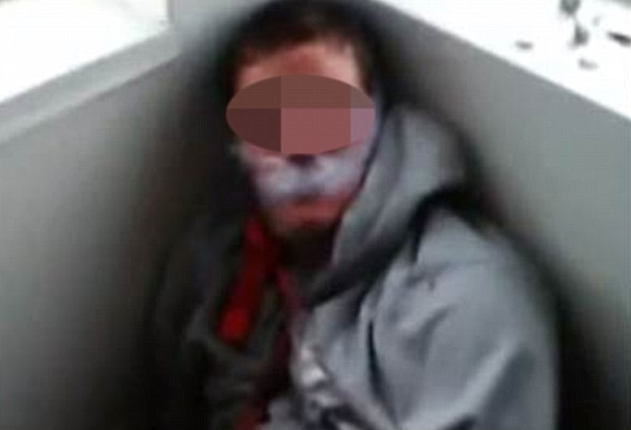 (Image source: The Daily Mail)
Chicago police investigators do not believe the white man who was kidnapped tortured on Facebook Live while his four black captors yelled "f**k white people" was targeted because of his race.
The 30-minute Facebook Live video, which was streamed on Brittany Herring's Facebook page, shows Herring and others kicking and punching a man who has is bound and gagged as he cowers in the corner of the room. The video also shows the man's hair being cut, his scalp bleeding, and cigarette ashes being flicked into his open wounds.
During the video, people can be heard yelling "f**k Donald Trump" and "f** white people." The suspects say during the video that the intention was to make it go viral.
According to police, the victim was an 18-year-old with special needs who was an acquaintance of one of the perpetrators.
The Daily Mail reports the victim was held hostage for one to two days and that the perpetrators sent text messages to the victim's parents.
As a result of the video, four people are now in custody.
Although the video makes specific reference to the victim's race, the police aren't sure whether hate crime laws apply.
CNN reports Chicago Police Cmdr. Kevin Duffin isn't sure whether hate crime laws can apply because sometimes, people make "stupid decisions."
He said, "Although they are adults, they're 18. Kids make stupid decisions -- I shouldn't call them kids; they're legally adults, but they're young adults, and they make stupid decisions."
"That certainly will be part of whether or not ... we seek a hate crime, to determine whether or not this is sincere or just stupid ranting and raving," he continued.
Chicago Police Superintendent Eddie Johnson added the perpetrators might have just been "ranting about something they think might make a headline." He also claimed he did not believe the attack was politically motivated, even though the captors mention Trump.
According to ABC News, police spokesman Anthony Guglielmi said that although "terrible racist statements" were made throughout the video, police investigators do not believe the victim was targeted for his race. Rather, they believe he was kidnapped and tortured due to having special needs. He also said a potential motive was to extort the victim's family.
Guglielmi said police are trying to "build the strongest case."
As of 9:20 a.m. local time, ABC reports police are still looking at hate crime laws.